15 December, 1999
McMurdo Station, Ross Island, Antarctica
Wednesday
Today was an amazing day! I began my day by climbing Observation Hill at 7:00 a.m. Mark accompanied me as I am still a bit nervous. The view was spectacular! We took lots of photos and realized that we had lingered a bit too long and had missed breakfast! So for two meals in a row, I have eaten cereal (read yesterday's journal)!
I spent the rest of the day writing journals, having photographs taken with Anne Udry, a fellow Cincinnatian, and getting my things ready for bag drag. Bag drag in Antarctica is a little more difficult than in Christchurch! Because you are walking from one building, up a hill, to another building, you cannot actually drag your bags. My bags are incredibly heavy!
In the afternoon, Bess, Mark and I walked the Armitage Loop toward Scott Base. Our plan was simple. Earlier in the morning, Mark and I spotted some seals not far from the flagged path. We knew that we would be able to get some great photos! The seals were so cute! They paid little attention to us and continued to yawn and stretch and scratch! They are huge blobs of nothing but fat! Their faces are quite expressive. One of the seals kept an eye on us most of the time, but after a while, he also fell asleep! It was such a great treat to see these magnificent animals!
This evening we had bag drag. Fortunatly we were able to hitch a ride with another group and so minimized the amount of distance that we had to carry our bags! As I had stated earlier, each person manifested on the flight, is given a priority. The higher the number, the more likely you are to be bumped from a flight if the room is needed for cargo. Bess is number 4. No worries there! Mark is number 6. I think he is on the flight. Julie and Maite are numbers 36 and 38. There are only 38 people manifested so they will be the first to be bumped. I am number 24. My position is at risk, but I am hoping that there isn't too much cargo and that we can all still be together. I cannot say goodbye to them just yet!
It's midnight in Antarctica. The sun shines brightly. I can hear a helicopter. I am so sad to leave this wonderful place and yet, I am so anxious to get home. I will be back sometime.
Sharon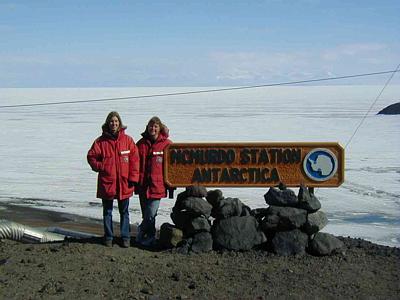 Sharon with fellow Cincinnatian, Anne Udry, overlooking the ice wharf and Hut Point.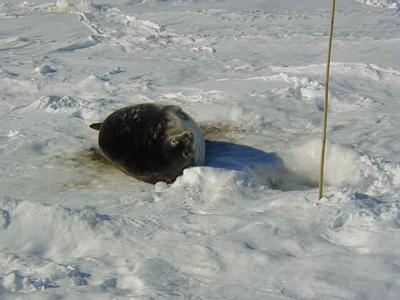 A fat and lazy Weddell Seal awakens for a moment to check us out!

Sharon with the Weddell Seal. You could hear the seal 'snoring' as it watched us.
---
Contact the TEA in the field at .
If you cannot connect through your browser, copy the TEA's e-mail address in the "To:" line of your favorite e-mail package.