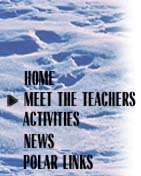 7 September, 1999
Hi, my name is Dan and i'm one of the students from Barrow, who went with your teacher to Cold Bay, Alaska. I had a rather interesting experience with both the area, and other things. I really enjoyed the sceenry and the company, because everyone there was overly nice to all of us. and although there was hard work involved the reward I thought was well worth it. I think the coolest part about the entire trip was when we went to some stream on something called bridge 1 or 2 and we saw many Red Salmon. ya welll that's how fun it was... I'm Dan Brower from Barrow Alaska.
Anuhea Kamakele
09/07/99
BARROW,ALASKA
Today I flew to Seattle but I,m really going to Alaska. The flight took about 5 hrs and 20 min. As you know I reached there safely. I,ve seen a beautiful sunset. The colors we're pink,orange, yellow, green,light blue,and then dark blue. When me and Ms. Hauschulz reached the terminal airport at Anchorage we spend the night there and in the early morning we got up and went back to the airport and flew on another plane to Cold Bay. Cold Bay is really, really cold! We met a few other people there and they from Barrow, Alaska. Their names were Leslie Boen(teacher), Rita and Dan. There's about 80 people that live there. About 17 kids go to school there. Grades k-10, no seniors or juniors. We stayed at the Weathered Inn hotel. It's a very small place. There was a bar in it and across the street there was a restaurant where we ate at. And guess what? I seen 2 Hawaiians and 1 Samoan. All of them worked at the restaurant and the cook,MIKE MAHI, is originally from Kona but lived in Waianae. He also worked at Makaha Sheraton as a chef and he also knew my sister Lorie Kamakele who used to work there. They were really nice since they hardly see anybody from home. So they were really nice to us. Well our food was free and we learned alot up there. Radio Telemetry, Berry Production Sampling, and ofcourse banding Stellers Eiders. So we pretty much were booked practically every day. But I really learned alot while I was there and there was so many neat things to see. I've actually spotted 4 brown bears through a binocular and I've seen a red fox that was really close to us. I've also tasted salmon berries, crow berries which taste like grapes and bear berries which don't taste very well. I've seen Emperor Geese, Black Brant Geese. While we went out looking for brown bears we found some really neat caribou jaw bones that you will see when we get back. We also went Salmon fishing. Unfortunately I didn't catch any fish but Ms. Hauschulz did.
Well I have to go because we're gonna go and eat dinner and then we're gonna go to the cultural center and talk to them alittle about what we did at Cold Bay and ofcourse alittle about HAWAII. So I gots to represent and I'll e-mail to you later. ALOHA!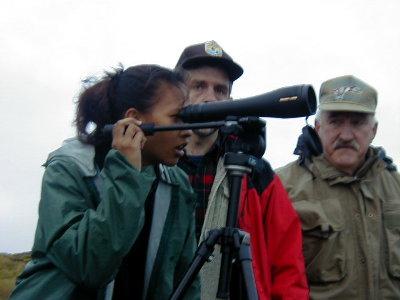 Anu checks out the beautiful Emperor Geese through the spotting scope. ____________________________________________________________________ Get your own FREE, personal Netscape WebMail account today at http://webm= ail.netscape.com.
---
Contact the TEA in the field at .
If you cannot connect through your browser, copy the TEA's e-mail address in the "To:" line of your favorite e-mail package.