8 September, 1999
Wednesday, September 8th
RADIO TALKSHOW/BARROW HIGHSCHOOL/WRITING JOURNALS/PIZZA/INUPIAT CULTURAL HERITAGE CENTER
Welcome back to school everybody! It feels strange that school is going on without us! I am also happy to be all updated on the journals, hopefully you will be seeing this with pictures, also.
We are going to try and videoconference with classes today, so for any teachers out there from Wai'anae, we are going to be at the computer during first and 4th period today (from 8am-9:19, and 12:56-2:05pm Hawaii time) if you can come check us out on CU-See Me. Hopefully there will be a couple of students from Barrow (Rita and Dan) who joined us at Cold Bay also able to videoconference with you today.
For me right now, it is just after midnight, still Tuesday night. I wanted to tell you a little bit about our day today before I went to bed. Otherwise I might never do it!
Today Anu and I woke up at the Arctic Research Facility (ARF) in Barrow. It is a bunkhouse for visiting scientists to stay it while they do arctic research. This summer when I stayed there it was packed full, with maybe 20 people in it at times. Now, it is only Anu and I there - it feels kind of spooky! Especially since there are preserved specimens all over the place of walrus fetuses and polar bear fetuses and strange tumors from whales and skulls and other things like that.
Anyway, we woke up and turned on the radio, and first thing we heard was "Time is 7am. At 7:40 you will be hearing from a high school teacher and student visiting us from Hawaii". As soon as that was on the air, we got a phone call from the Wildlife Biologist who works with the Steller's Eiders here in Barrow (Robert Suydam). He said "I was just listening to the radio, and I guess I better come pick you up and take you to the radio station!" So we went straight to the radio station for an interview. Anu thought that the interviewer used too big of words, but the interview went pretty well.
After that, we drove to Barrow High school and made 3 presentations in a row (each was 80 minutes long!) about Steller's Eiders, what we did in Cold Bay, and the Hawaiian Studies program back home. The students were all really good, and were especially interested when Anu spoke. She had a short speech at the beginning in Hawaiian, and she did a really good job! When school was over, we came over here to Robert's office and Anu typed up a journal entry (September 7th). Before she could finish, we made her sign off so we could go grab some pizza before we had a talk tonight at the Inupiat Cultural Heritage Center tonight. There was not a big turnout, because it was all very last minute, but the people that did come were really excited about the video we took in Cold Bay and what we did there, and excited about the Hawaiian Studies program back home. Now, they want to send teachers and students from Barrow down to Hawaii to observe the Hawaiian Studies program!
Anyway, after we did our presentation, Dr. Glenn Sheehan, the Executive Director of the Barrow Arctic Science Consortium (BASC) and Dr.Robert Suydam gave Anu and I a personal tour of the Cultural Center. We were really lucky to get a tour by two people who have so much input into the exhibits there! Dr. Sheehan had personally excavated much of the artifacts that are on display, and Dr. Suydam is involved in the whale research which is such an intregal part of the community.
We made it back around 9pm, and I have been sitting here ever since, catching up on journal entries. I am going to try and get some pictures downloaded now, so hopefully you can see them! See some of you on videocamera later today - I am sure I will look very tired! :-D
Take Care, Michele Hauschulz, (Teacher Experiencing the Arctic)
Anuhea Kamakele
09/08/99
Barrow, Alaska
Hi! Today we went to talk to some of the elementary schools and yesterday I've talked to some of the high school students and a cultural center. The students at Barrow high school I think are very nice because when I was doing my presentation they were listening very well and they weren't rude. So I think they were very nice. They start school at 9:00am and ends at 3:20pm.
There school is really nice. It's indoors and they have lockers just like the movies. But there cafe is really small. When I was talking to the elementary students (4th grade) they are really smart they asked alot of questions. The 2nd graders were also great and they look so cute! There so small looking. Anyways I have to good because I got to do some video conferencing to some of the gang back at Waianae high school. So see you later! ALOHA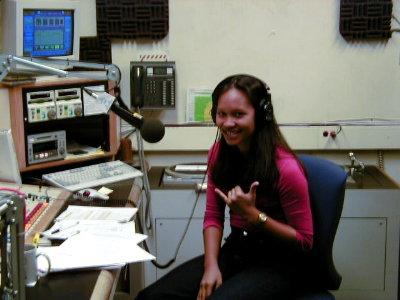 Anu is a natural on the air! ____________________________________________________________________ Get your own FREE, personal Netscape WebMail account today at http://webm= ail.netscape.com.
---
Contact the TEA in the field at .
If you cannot connect through your browser, copy the TEA's e-mail address in the "To:" line of your favorite e-mail package.