23 February, 2000
Travel from Anchorage, Alaska to Miami, Florida
Question 5: Will there be "Northern Lights" in Antarctica?
Since our airport is undergoing some construction, I got up at 4 am today. It wasn't easy getting my baggage to the check-in counter. With all of my dive gear, I have more luggage than usual: 4 suitcases and my carry-on backpack and computer. Too much for me to carry by myself! Good thing there are carts and porters, especially in Miami, where I will be staying overnight before continuing on. When I left home it was beautifully clear, the stars were out and the almost-full moon was reflecting on the snow. There were northern lights dancing all across the sky!
On the Alaska Airlines flight to Seattle (3 1/2 hours) I had three seats to myself and could lie down to doze. The flight from Seattle to Miami (6 1/2 hrs) was somewhat empty, and I had no one sitting next to me. A whole day gone traveling across the country! The changes in climate and temperature really let you see how far you have gone between stops. Anchorage this morning was around 20 F with snow on the ground; Seattle was in the low 50's F and there was green grass everywhere. Miami was the biggest change--high 60's F with palm trees and blooming flowers! Tomorrow I will stay most of the day in Miami as my flight to Chile does not leave until evening on the 24th.
Answer 4: Jade is the official state gem. The Willow Ptarmagain is the official state bird. Our flag has a blue field and the Big Dipper and North Star in gold. The Forget-me-not is the official state flower. Did you find out what our state fossil, fish, and tree are?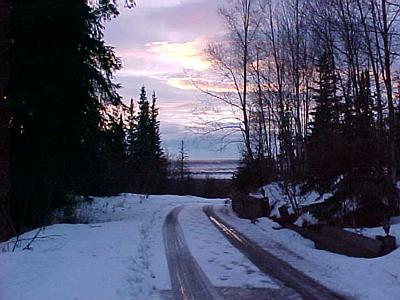 Anchorage, Alaska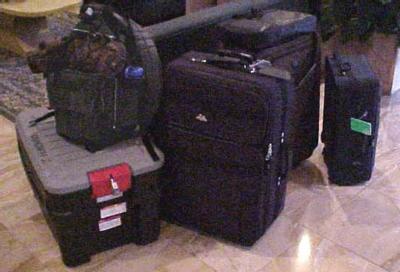 My luggage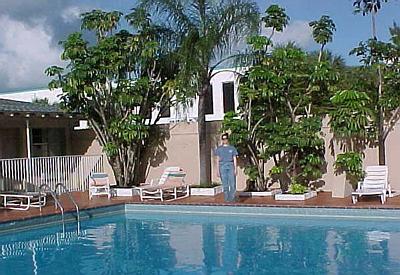 Miami, Florida.
---
Contact the TEA in the field at .
If you cannot connect through your browser, copy the TEA's e-mail address in the "To:" line of your favorite e-mail package.