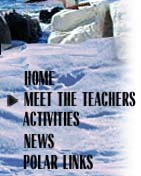 24 December, 2002
Christmas McMurdo Style
We were scheduled on a helo to the Dry Valleys on Monday, but a low pressure system came in and stayed, so all flights were grounded. Because of the holidays, it means that we will not be able to fly again until Thursday, the day after Christmas. In some ways we were disappointed: we would not be able to spend Christmas with our whole team, and it puts us behind in the work we need to do. BUT it means we get a great Christmas dinner, showers everyday, and a bed to sleep in for a few more nights. Not all bad! Speaking of foodŠwe feel like we may have to be rolled out of here. McMurdo has a chef and a sous chef and a whole crew of DAs. (dining room attendants) Every meal is a buffet, and often the food is gourmet quality. It's hard not to get carried away. Plus, since we are stuck here with very little to do, we look forward to meal time as entertainment-a dangerous situation! We are hoping when we get to the field that we will work off the calories we have been packing away.
Imagine going to a party where everyone is wearing the exact same coat. Now imagine everyone leaving at the end of the party and trying to find their own Big Red in the piles that line the entranceway! That was the only difficulty at the Christmas party held in the gym on the 23rd. The Kiwis came over and bar-b-qued for us: burgers and steaks. Santa was there, and we all got to sit on his lap and make a wish. Actually, I think Santa's wish came true, because HE got to meet all the girls on the base! The party committee had gone all out on decorations. A huge orange and white parachute surrounded the space and hung from the ceiling, giving it a festive, airy atmosphere. Four bands played during the night, and fun was had by all. How strange to walk outside at 1:00 AM and meet the sun shining brightly! On the 24th, we ate the Christmas meal at the 4:30 seating. It was a wonderful spread including prime rib, salmon roulade, fresh mashed potatoes, homemade gravy and a huge dessert bar. We took a walk down to the old aquarium and finally saw our first wildlife! A seal was wallowing outside a small hole in the ice. I wanted to get closer, but did not want to violate the Antarctic Treaty, so we stayed quite a distance away and shot some pictures with the telephoto lens. Afterwards we played Uno and hung out with our new found friends. McMurdo is a small town, but with no natives, everyone is open and friendly. And everyone has a story.
Christmas day was like no other I have experienced. We slept in and then moseyed over to the Christmas brunch. Have you noticed how our life here revolves around food? I opened a few gifts from home, (thanks, honey!), and then we watched "It's a Wonderful Life" at the Coffee House and had a good cry. Then it was time for dinner-food again!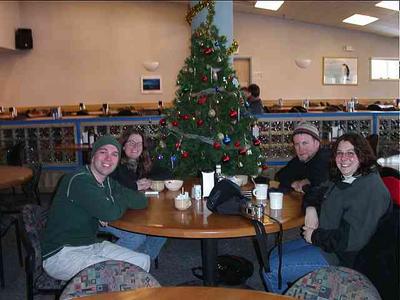 1. Ryan, Sarah, Pete and Jen by the Christmas tree in the dining hall at McMurdo.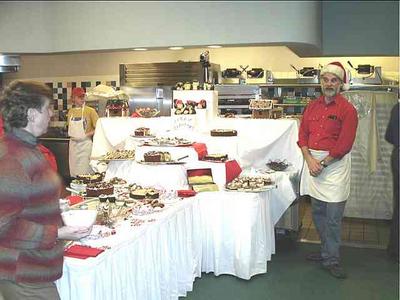 2. With a dessert table like this, we sure can't claim to be roughing it, can we?!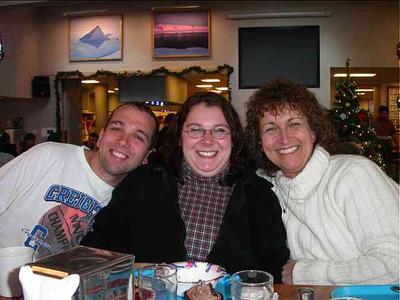 3. Ryan, Jen and Louise look pretty happy about their Christmas meal, don't you think?


---
Contact the TEA in the field at .
If you cannot connect through your browser, copy the TEA's e-mail address in the "To:" line of your favorite e-mail package.