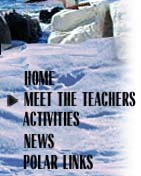 7 December, 1997
Hi Everyone,
This will be short and sweet. Not a big day here today. It has snowed most of the day. Not a lot but just flurries constantly. Cold and just raw and ugly. Hope that this weather improves. Sunday is the real rest day here. Nothing is open and since the support staff works a 6 day week during the short season, they need it. The kitchen is staffed by many volunteres and you pretty much fix your own things like breakfast cereal and toast and then fix a decent brunch for lunch. Supper was served though, some one must still be working. Kathy and I worked in the lab doing our science thing. She is the chemist for many of the Valley groups and does a lot of testing and then there is the inevetable clean up. I could not find oven room for my disks and will have to wait until tomorrow to dry them. I spent most of the day catching up on the journal entries and writing answers to questions students have sent me. I enjoy this, keep sending me material. I will answer them if I can. Here in McMurdo they are not a problem. When I'm in the field you might have to wait awhile. Just a normal Sunday here today. The only excitement was that several people have died trying to sky-dive the South Pole. The pole is about a three-hour plane trip from here. The
navy pilots told me about it at breakfast but they did not have any real information about it either. Really don't know what happened yet. I would guess that they would have to come through McMurdo to get them out. I really don't know though what emergency things are available. All in all a pretty normal Sunday. I'm OK and doing fine. See ya
---
Contact the TEA in the field at .
If you cannot connect through your browser, copy the TEA's e-mail address in the "To:" line of your favorite e-mail package.