23 July, 2003
I must go down to the sea again
to the lonely sea-strand and sky,
And all I ask is a tall ship
and a star to steer her by. . .
I'm not sure if I quoted it quite right, but I suspect that the sentiment expressed in the old John Masefield poem must be shared by many of the Palmer's officers and crew, for after all, they spend a good part of their lives on the water.
Captain Joe Borkowski III, for example, often spends more than 300 days of each year out at sea. Originally from Mississippi, Captain Joe grew up on the Gulf working on a variety of boats. He has been the Captain of the Palmer since 1992.
And Chief Mate Mike Watson (from southern California), Second Mate Jay Bouzigard (Louisiana), and Third Mate Rob Potter (North Carolina), all have a great deal of experience in working around ships and the water. Completing the ship's compliment of officers is Vladimir Repin, a Russian now living in Virginia, who is serving as the ice pilot. Val, as he's called, has commanded large nuclear-powered Russian icebreakers in the past and is helping as a special consultant in navigating the ice during this voyage.
Although this is everyone's first time to the Arctic, except for Val, this group of officers have plenty of experience sailing in the ice. Antarctic ice that is. In visiting with Captain Joe, it seems that the big difference in navigating Antarctic waters is the danger associated with icebergs. Big bergs are regularly calved-off the continental ice sheet directly into the sea and pose dangerous hazards to ships operating in Antarctic waters. More than once, when the Palmer is breaking ice, I have wondered if that's the last thing that those on the Titanic heard as it can get fairly noisy- especially in the forward sections of the ship.
As I write this, I glance out my window, uh porthole, and gaze upon an eerie scene. Under leaden skies, among ice floes glinting azure and white against gray waters, we'll just "take it slow and easy" as Captain Joe observed one day on the bridge. By all accounts, including many of the scientists and technicians that have sailed on lots of other vessels, this group of officers and crew make the R/V Nathaniel B. Palmer the finest ship afloat.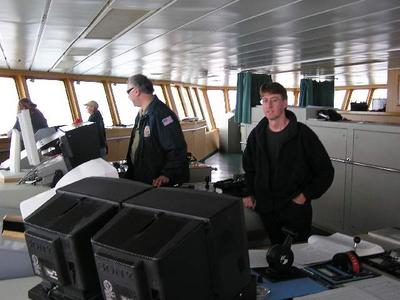 Chief Mate Mike Watson on the right with ice pilot Vladimir Repin on the Palmer's bridge.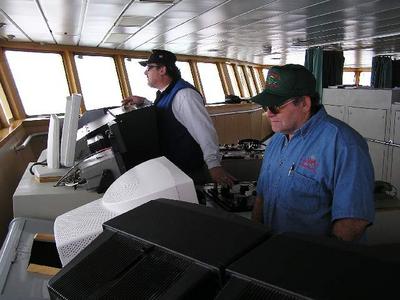 Second Mate Jay Bouzigard in the foreground with Captain Joe at the helm.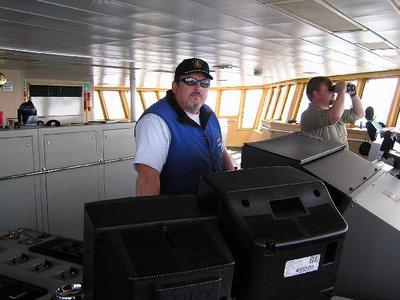 Captain Joe Borkowski III on the left with Third Mate Rob Potter scanning ahead.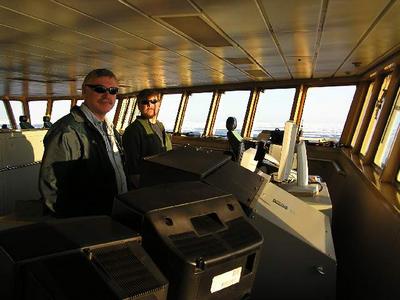 Ice pilot Vladimir Repin on the left with Third Mate Robert Potter on the Palmer's bridge.
---
Contact the TEA in the field at .
If you cannot connect through your browser, copy the TEA's e-mail address in the "To:" line of your favorite e-mail package.