29 July, 2003
The other day, northern mists finally gave way to gleaming skies. The break in the weather sent helicopter pilot Bruce Andrews and mechanic Bob Anthony roaring into action. Their job is to support the three wildlife biologists that are conducting a marine mammal survey.
For Bruce, this means flying a high performance Hughes 500-D helicopter off the bobbing flight deck of the Palmer. Brisk winds can add to the challenge. Once aloft and away, Bruce flies the biologists for a few hours over a pre-determined section of the ice where, hopefully, they find seals to count. The conditions can change rapidly, of course, so sometimes a flight has to be cut-short, making it necessary to return to the ship. When fair weather prevails, Bruce will make as many as two flights a day.
And quietly behind the scenes, Bob Anthony makes all of this possible. His diligence and daily maintenance keeps the helicopter operating smoothly and in peak condition. Although I'm not mechanically inclined, I have flown in many helicopters (including the 500) and have talked to a number of mechanics, to appreciate how much work is involved in maintaining one of these incredibly powerful machines. Every hour of flight time, for example, translates into hours of work for Bob.
One thing for sure, both of these guys love to fly. So it's not surprising that they have been flying for a long time. That's right: Bob, the mechanic, is a fixed-wing pilot too. Bob started flying when he was in high school down in west Texas. He now lives in Wasilla near Anchorage with his wife. Bruce learned to fly helicopters in New Zealand where he lives and works for part of the year; however, he enjoys flying in Alaska and British Columbia so much that he moves his family to Alaska from New Zealand each summer. Bruce has also flown helicopters in Southeast Asia, Antarctica, and South Africa. Both pilot and mechanic work for Prism Helicopters in Anchorage.
Once again as it so often does, gleaming skies quickly deteriorated into icy mists during the last flight, so Bruce had to bring the disappointed biologists back to the Palmer before the day's section was done. But Bob's work was just beginning, and in short order, he'll have the craft ready to go again.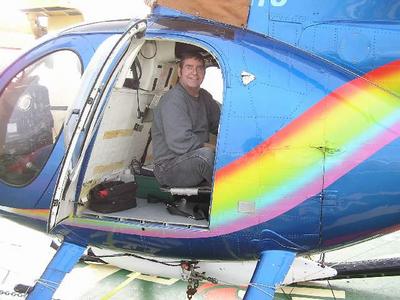 Bob Anthony working on the Hughes 500-D.

The driver's seat.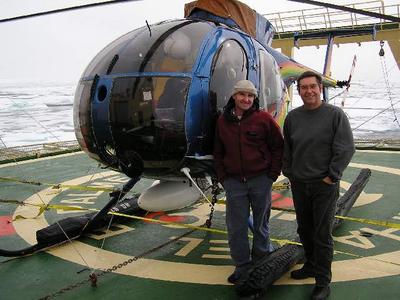 Pilot Bruce Andrews (left) and mechanic Bob Anthony on the Palmer's flight deck.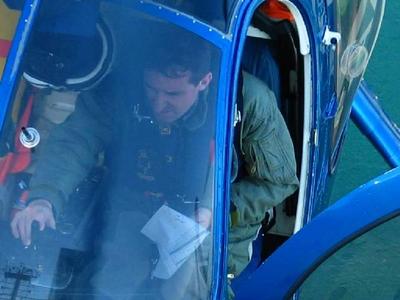 Mike Watson's photo of Bruce performing a pre-flight check.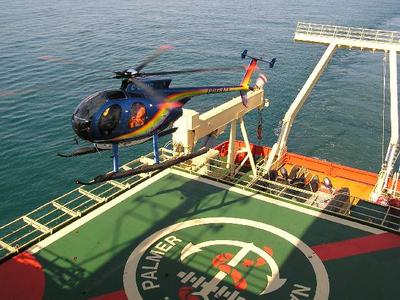 Off to work.
---
Contact the TEA in the field at .
If you cannot connect through your browser, copy the TEA's e-mail address in the "To:" line of your favorite e-mail package.