8 July, 2003
This morning finds the Palmer standing offshore of Nome, Alaska while we wait for the helicopter to arrive. I find the scenery around Nome parcticularly interesting because 25 years ago I worked as an exploration geologist in the mountains to the of town.
In fact, my partner and I were stranded for a couple of days when my company's helicopter failed to pick us up. So when it became apparent that no one was coming for us, we spent a day and a half walking out of the mountains to a road where we were fortunate to hitch a ride into town. Later we learned that our "pin" marking our location had fallen from the map on the wall above the dispatcher's desk. With over 50 such pins representing geologists working all over Alaska, it was easy for someone not to notice our missing pin.
With all of the safety protocols and the closeness of our working conditions here on the Palmer, it would be very difficult for someone to go missing here without someone noticing. (Besides, I already checked all the maps on board and I was pleased to see that there are not any pins that can fall out.)
After the excitement and entertainment of watching the helicopter set down numerous times as the pilot was getting-in some practice on the Palmer's landing pad, we continue north on smooth seas to our first stations. Late tonight the night shift (midnight to noon) of scientists and technicians will begin collecting water samples with the rosette. There are 5 stations between Big and Little Diomede islands and the Alaskan mainland where they will obtain our cruise's first samples. Let the science begin!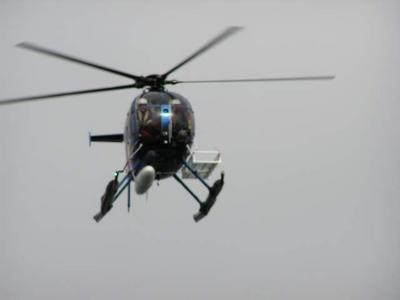 The helicopter joins the Palmer.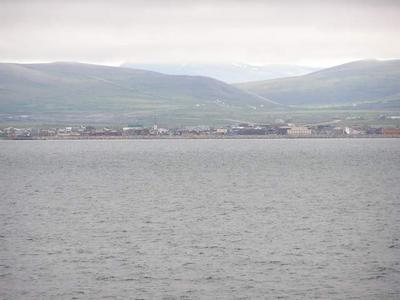 Nome, Alaska.
---
Contact the TEA in the field at .
If you cannot connect through your browser, copy the TEA's e-mail address in the "To:" line of your favorite e-mail package.