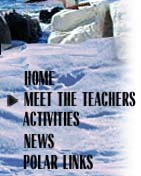 14 November, 2001
Tim Brox, an Eagle Scout experiencing Antarctica, spent several days visiting our field camp at Explorers Cove.
The wind was strong again throughout the day, but Dr. Bowser, Dr. Pollock, Dr. Korsun, and Phil Forte set out to Marble Point to scuba dive under the ice. Dr. Korsun stayed on the surface to assist the dives. It was a cold, windy day, so I was thankful to have this time to write journal entries and to work on the upcoming audio broadcast with my students and the outside world, which hopefully will take place at 4 a.m. tomorrow morning. I also took the opportunity to interview Tim Brox, the Eagle Scout, who flew to Explorers Cove with me this past Thursday, November 8th. Tim has been a welcome addition to the field camp. He is a self-starter, meaning that he steps in to do whatever needs to be done without being told. With each day, it only confirms why this teenager was selected by the Boy Scouts of America to experience Antarctica. Without a doubt, Antarctica will make a mark on his life.
And the story begins: Tim Brox is an 18 year old from Fresno, California. On April 23, 2001, he learned that life as he knew it was about to change. He is "the" Eagle Scout who has been selected to come to Antarctica this year. What an honor and an opportunity of a lifetime! Initially, his goal was to parcticipate in research relating to biology and to see the continent. Three weeks into this Antarctic experience, he already feels the changes taking place within his life. He doesn't know where this will lead, but he knows that his life is being moved forward. Antarctica builds strength and endurance by daily life on this harsh, but beautiful continent.
Before deployment to Antarctica, Tim spoke several times with Guy Guthridge, program manager for the National Science Foundation's Office of Polar Programs. Tim also had discussions with a "point of contact" for Raytheon Polar Services (the logistic people for Antarctica). From these discussions, he arranged tentative plans, which included going first to the U.S. McMurdo Research Station in Antarctica, via New Zealand. He knew he would go to field camps, visit the South Pole, go back to New Zealand, go to South America, and then go by ship to the U.S. Palmer Research Station on the Antarctic Peninsula. Few people get the opportunity to go to all three U.S. Research stations and outlying field camps.
Tim spent the first two weeks in McMurdo. He took sea ice and helicopter safety training, snow survival school, as well as training to get a driver's license to operate the heavy vehicles, such as sprytes, and fleet vehicles to drive trucks and vans in Antarctica. He also worked at the Berg Field Center (BFC), which supplies things such as tents, coffee makers, pots, and survival gear to individuals and groups as needed. His main job there was to check out and repair tents. He also found it helpful to work with the MEC (Mechanical Equipment Center) because working on small equipment such as chain saws, generators, and snowmobiles would be a great aid in the field, especially since he would be going to several field camps. While here at Explorers Cove, Tim opted to sleep in his tent rather than the comforts of the Jamesway hut. This gave him the opportunity to experience the "real" Antarctica and to learn more about his survival gear.
Tim was scheduled to leave for Lake Hoare today, but as typical &Antarctica said "no". He is now scheduled to leave tomorrow morning. He's not sure yet sure what he will be doing or how long he will be staying in this field camp, but after meeting Tim, I am certain that he will adjust and grow from each new experience. Facing these unknowns will build confidence and change Tim more than Antarctica itself. Antarctica is the force that pushes a person to change, but its up to the person to gain from the experience. Tim will benefit because he has the courage to change. In doing so, he will grow tremendously.
Tim's schedule after Explorers Cove: He will go to the Dry Valleys to work on a stream project, then a sea ice study at Cape Evans to learn more about the impact of ice melting. He will then go on to the Big Razorback Island >from November 25 through December 12th, to work with Weddell seals. On December 17th - 21st, Tim will be at the South Pole. From December 31st to January 5th, he is scheduled to do a study of Orca "killer" whales while on the United States Coast Guard Icebreaker. Tim will not only study science, but also learn history with his next scheduled project from January 8th - 10th. This project involves studying microbes in the wood at the Scott Hut, and determining the best way to preserve the hut from these microbes. Tim will leave McMurdo on January 16th and spend some time in New Zealand before departing for South America. He should arrive in Punta Arenas on February 4th in time to begin travel by ship on February 5th to head across the Drake Passage to the Palmer Research station on the peninsula of Antarctica. The Drake Passage has been known to be one of the roughest crossings, frequently with 30 foot high waves. Tim will stay at Palmer until March 2nd. He will arrive back in Punta Arenas on March 6 , 2002. He would like to see Patagonia before heading back home. Antarctica may change some of Tim's plans, but the changes will be part of the adventure, growth, and learning.
From your friends at Explorers Cove, we wish you the best, Tim!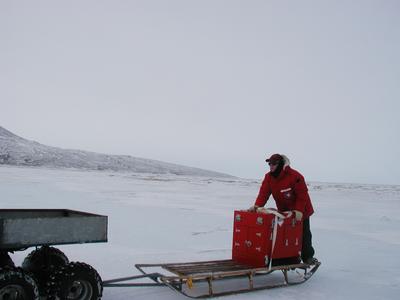 Tim was a great help at the field camp. He was involved with learning as much as he could while he was here. He sorted forams, helped assist in tending the dives, and helped drill the hole for the hydrology site. In this picture, he is helping bring the generator to the drill site by an ATV and sled. His mom would be proud to know that he even took his turn at cooking.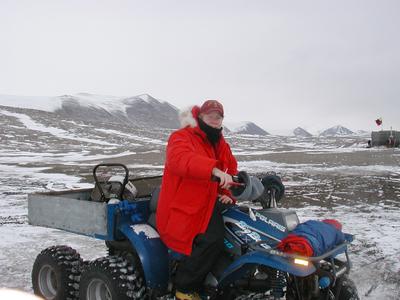 Tim!
---
Contact the TEA in the field at .
If you cannot connect through your browser, copy the TEA's e-mail address in the "To:" line of your favorite e-mail package.