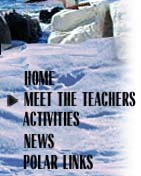 15 November, 2001
I had to listen intently as my students asked questions during the 4:00 a.m. audio broadcast on November 15th (Antarctic/New Zealand time). It was 9:00 a.m., November 14th at West Elementary School in Mt. Juliet, Tennessee. "Spike", the class penguin, was there during the broadcast. Note how light it is outside in the early morning hours during the Antarctic spring and summer.
Since I was working late last night, I decided to remain awake instead of setting an alarm to get up to make an audio broadcast at 4:00 a.m. In order to connect with my fourth grade students at West Elementary School, I had to first call a contact at CRREL (The Cold Region Research and Engineering Laboratory). From there a conference call was set up with a school in Wisconsin who would be handling the computer and audio portion of this broadcast. From CRREL, the call was conferenced to my home school in Mt. Juliet, Tennessee. Since I was making this broadcast from the field, we had to allow for the time difference, as well as gaining access to a phone connection. The call was placed at 4:00 a.m. on November 15, 2001 (Antarctic/New Zealand time), but it was 9:00 a.m. on November 14th for the students at West Elementary. Digital photos were sent before the day of the broadcast in order for Arlyn at CRREL to put together a "Power Point Slide Presentation". Kim Clemmons, Tony Brown, and Bob King helped to bring this connection into West Elementary School. I really appreciate the hard work from all who helped make this possible. I especially appreciate the scientists who lost a little sleep as I tried to speak loudly into the phone.
The phone connection was not strong enough for my students to clearly understand what I was saying from the field. This only reinforces the notion that Antarctica is one of the most remote places on Earth. Antarctica is definitely isolated from the rest of the world. Instead of feeling frustrated or helpless by having limited connections in the field, I feel more amazed that any connection can be made at all. The first 10 minutes of the broadcast showed photos from different experiences in Antarctica. Dr. Bowser talked about the forams in Explorers Cove and answered some questions from students. I could clearly hear Arlyn as she helped transmit my responses, as well as served as the "MC" for questions emailed from students across the United States. Several of my 4th grade students asked questions by phone, while other students listened on a speakerphone. It was wonderful to hear their voices. It made me feel connected to all the students, faculty, staff, and PTO from West Elementary, as well as other students and teachers I've met across the country. I also received some questions from other schools in my school district and beyond. It was wonderful to end the broadcast by hearing from my husband and mom. Ten years ago, email and phone calls were not available to the outside world. Even though it may be difficult at times to get through by phone from Antarctica, it is wonderful to know that this possibility does exist.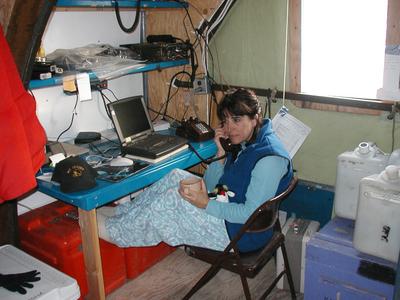 Tina speaking during the live broadcast from McMurdo.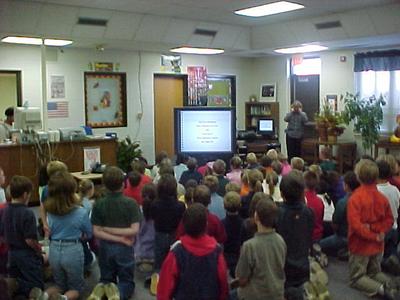 The entire 4th grade at West Elementary in Mt. Juliet, Tennessee. The students watched the Antarctic slide presentation as they listened to Tina's audio broadcast live across the Internet from McMurdo Station, Antarctica. The students later asked Tina questions.
---
Contact the TEA in the field at .
If you cannot connect through your browser, copy the TEA's e-mail address in the "To:" line of your favorite e-mail package.