11 December, 2001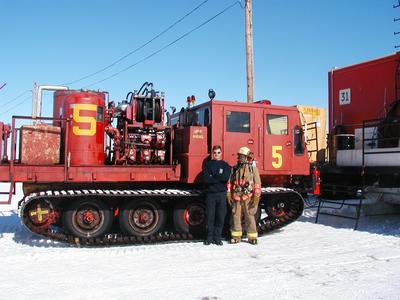 Fire fighters at Williams Field

The fire engines in Antarctica look a little different from what we know back home. The number 5 engine at Williams Field is a tracked vehicle, which allows movement across sea ice.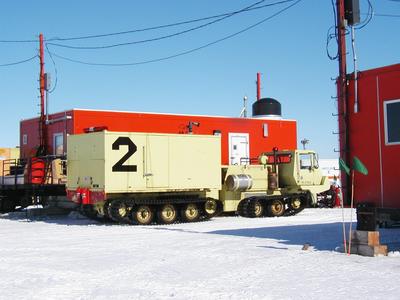 There are five engines at the runways on the Ice Shelf. Four engines are at Williams Field, and one fire engine is at the Pegasus runway (the runway is on a glacier on the Ice Shelf). The Ross Ice Shelf is the size of France. The Ice Shelf is made up of thick layers of ice attached to the land, but it floats on top of the seawater.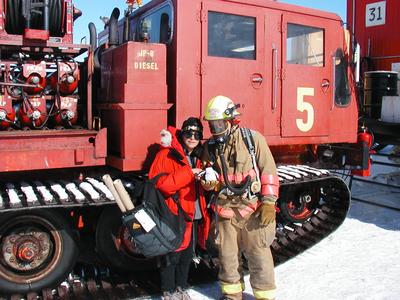 "Spike" and I met up with firefighter Brett Miller, who volunteered to put on the fireman suit. He is from Vale, Colorado. He will winter over this year. I was told that the red fire trucks are smaller, but faster. They can hold 200 gallons of water and 200 pounds of dry chemicals.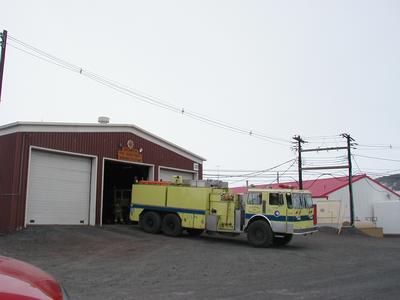 In town at the U.S. McMurdo Research Station, there are two fire engines and one water tanker, which hold 3500 gallons of water.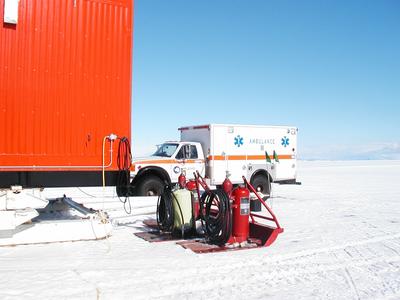 One ambulance is here at Williams Field, while the other is at the McMurdo complex.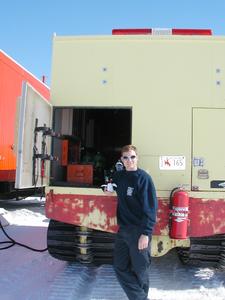 Dave Schutt, (see December 10th journal entry to meet his wife, Heather) came to Antarctica as a firefighter from Denver, Colorado. I really appreciate the time and information he shared concerning safety on the Ice.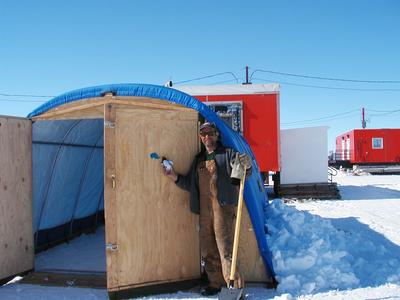 Patrick Plaia is a carpenter and photographer from Oregon. He is working six months (August Winfly through February) as a science carpenter foreman. This is his fourth season in Antarctica (with three seasons at the South Pole). He is here to support science by supervising construction, building furniture, and setting up remote field camps. One day he may be seen setting up a Jamesway Hut at Williams Field, and the next week he may be installing solar panels in a remote field camp at Mt. Erebus. He not only makes life easier for those living in Antarctica, but his photographs capture the beauty of Antarctica.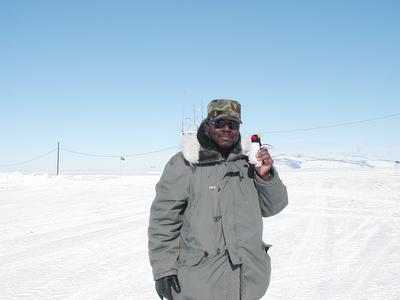 Ronnie Lee, a master sergeant with the Air National Guard, is from Peoria, Illinois. He is with the 182nd Airlift Wing-Safety Office. This is his first time to come to Antarctica. He retired from Caterpillar Tractor Company after 36 years. His field career has been in "Safety". He will be here from December 5- December 22, 2001 to make observations of the flight line as planes are loaded and unloaded. The New York Air National Guard flies the military planes to and from…and across Antarctica. I have been impressed with their professionalism and concern for safety. I didn't want to leave Antarctica without extending a special thanks to this wonderful and hard working group.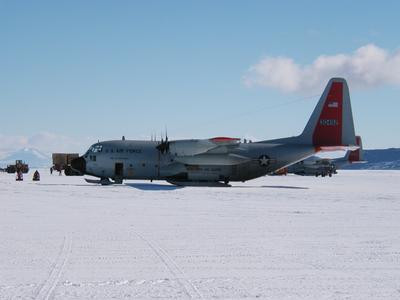 The LC-130 military planes with skis are mainly scheduled for flights on the continent. Antarctica is about the size of the U.S. and Mexico combined. McMurdo Research Station is the hub for anyone flying inland 800 miles to the South Pole. The first flights of the year begin during the Winfly in August, and the last plane leaves the continent in February. The brave ones who winter over must pass a psychological, as well as medical exam. It is too dangerous to send a plane back to Antarctica during the austral winter months. During the winter, the extreme cold can turn fuel into a gel-like consistency, and landing gears may get stuck into unwanted positions.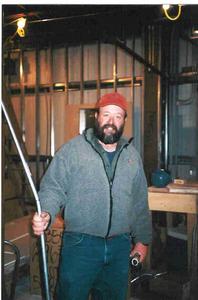 I met David Hayden during my snow school experience. He came to Antarctica from Deerlodge, Montana, as a retired electrician to do new construction on the Joint Operation Center in the McMurdo Complex. His job entailed installing conduits and to do electrical work on the new science support center. He also helped move landing aids and precision aircraft instruments from the ice runway to Williams Field and the Pegasus Runway. Within five minutes of meeting David, his love for scouting is evident. He is a District Chairman for Boy Scouts of America.
---
Contact the TEA in the field at .
If you cannot connect through your browser, copy the TEA's e-mail address in the "To:" line of your favorite e-mail package.