23 October, 2003
Helicopter Recovery on Ross Ice Shelf
Today was a very busy day. Our flight was delayed for a few hours this morning because of snow and fog. We soon were back on again as the weather cleared for just a bit. Our instrument this time was way out on the ice shelf, possibly even 90 miles away. We did not have a GPS fix on this one, so we were using the backup L-per signal. It worked very well again. The pilot flew in circles until we could get a signal from ground level. Once there we only had a short half mile walk to the instrument. It was completely buried in snow. It took awhile to dig it and the parachute up, and then we headed back to clean out the snow. The Ross Ice Shelf is absolutely gigantic. To see it is stunning. To walk on it breathtaking. You can see forever without any obstructions. Just a plateau of white.
When we returned, we launched another Ozone balloon. The Polar Vortex has closed up a bit, and we no longer are under it, so ozone above us is returning. It is not as interesting a measurement, so we may stop launching.
In the evening I went to Scott Base as they have their weekly America Night on Thursday. They have unique clothing there and a lively gathering spot for all the McMurdo personnel.
Hopefully I will chat with some of you today, which is really tomorrow for me.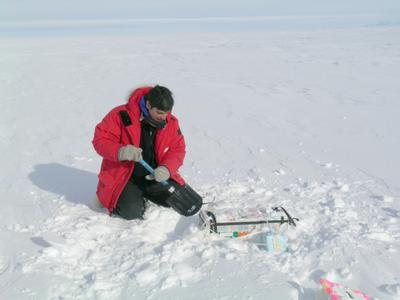 Thats me digging the hard pack snow away from the instrument. It has been out on the ice shelf for two months now.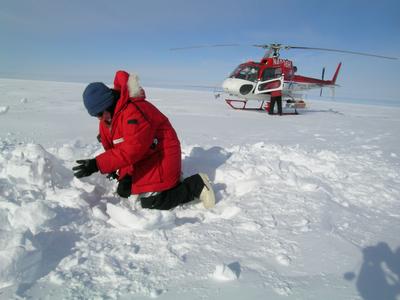 Dr. Mercer digging away too. This time we had a lot of snow to move.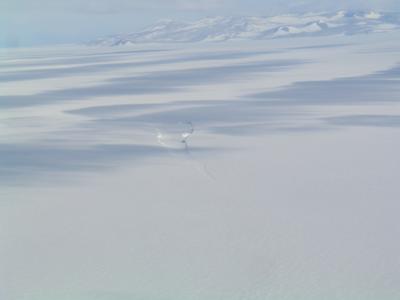 The Ross Ice Shelf has crevasses like these that you can see from the air. There is a road being built to the South Pole from McMurdo, and they dynamite crevasses to make them safe to cross. We have been fortunate not to step in any!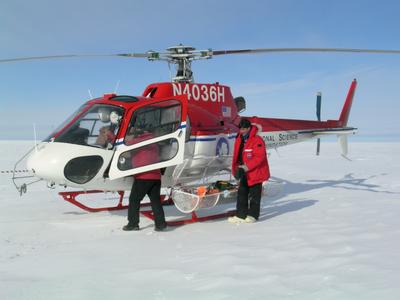 Loading up the helicopter. Everything is weighed carefully before you leave McMurdo. The weight is critical, especially on a long flight. We were limited to 500 pounds including us.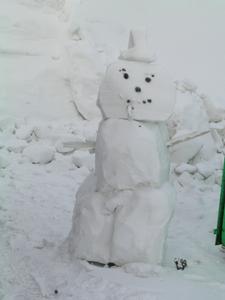 An Antarctic snowman is not round. You cannot make round snowballs. The snow does not stick, instead it packs down so that you can cut it with a saw into blocks.
---
Contact the TEA in the field at .
If you cannot connect through your browser, copy the TEA's e-mail address in the "To:" line of your favorite e-mail package.