7 October, 2003
Helicopter 1 , Instruments 0
Today we rode out in the helicopter to pick up instruments, except we could not find them.
We gathered our locators, and put on our ECW gear, and waited at the helicopter port until we were instructed to load the helicopter. This was my first time on a helicopter and it was a thrill just to be on one. This instrument has a great feel to it. You are sitting pretty much near the center of mass of the helicopter, so every move it makes feels like you are moving in sync with it, a lot like surfing the air. It is a dangerous aircraft but it is very maneuverable and steady, our pilot Ken was experienced and made it look simple.
We went to the Ross Ice shelf, past the B-15 iceberg, and out into an area that was the last known location of our instrument. We could not see it anywhere so we got out and tried locating it with our ELT receivers. No luck. We thought we try to go further on but the pilot told us the headwinds of 40knots were beyond the rating of the helicopter. So we flew back home.
So we are 0 for 1. And not giving up. Tomorrow we go again and hope for lighter winds. Two flights arrived from Christchurch, Susy Ellison, the other TEA was on the second flight. She will be working on Weddell seals. I encourage you to ask her questions.

The New Zealand station, Scott Base, below us.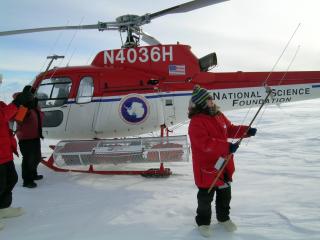 The helicopter on the Ross Ice Shelf. We are searching for the instrument we launched over a month ago but find no signal.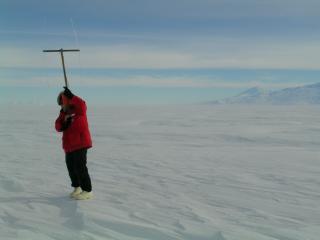 There is nothing out here except drifts of snow and 40 knot winds.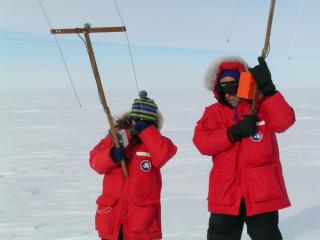 Cover your nose, unless you are willing to endure a case of frost nip.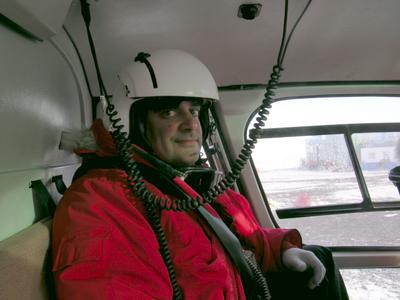 It is very noisey in the helicopter, you can talk through the intercom. You must wear all your gear. And you cannot rub the fog off the windows because it leaves scratches that makes it difficult for the pilot to see.
---
Contact the TEA in the field at .
If you cannot connect through your browser, copy the TEA's e-mail address in the "To:" line of your favorite e-mail package.