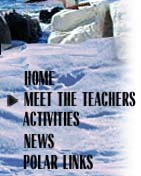 15 August, 2003
Packing for Antarctica
Tonight I am packing. I am allowed two bags not to exceed about 70 pounds for the flight. This will include the gear I am issued when I arrive in New Zealand. There has been a lot to do in this last week. I have spent every day in my classroom. My school has been very supportive in finding a qualified substitute teacher and I am hopeful that we will exchange lesson plans through email. That is the best thing about being stationed at McMurdo, they have very good communications as compared to the other stations. Our school at West does not begin until the day after Labor Day so I imagine I won't hear from them till then. Right now football season is gearing up and the Oregon state fair is just around the corner, two precursors to the beginning of the school year.
Ok, tomorrow I leave! From Portland then to Los Angeles then off to New Zealand, arriving sometime Monday morning at Christ Church. Then we will try on our Extreme Weather Gear and head off to McMurdo on August 20. I am looking forward to seeing the inside of one of these military cargo jets.
---
Contact the TEA in the field at .
If you cannot connect through your browser, copy the TEA's e-mail address in the "To:" line of your favorite e-mail package.