18 August, 2003
Arrival to Christchurch.
After almost 16 hours of flying from Portland to LA to Auckland to Christchurch I have finally arrived. The flight was completely full. Aboard were almost 100 people who will be stationed in Antarctica for the next six months. They are an eclectic group all with a genuine desire to enjoy unique, scientific, artistic and exciting opportunities in their life. They are men and women who will work as fire dispatchers, fire fighters, computer techs, mechanics, carpenters, and various other support personnel. All are here for Winfly (Winter Fly), the first flight into Antarctica for about six months. Presently there are about 150 people over wintering at McMurdo. Our flight is one of three Winflys that will bring the population up to about 400 for the next month or so before the mainbody begins to arrive with warmer weather.
I spent the day going through Christchurch exploring its history. It is an old (1850) city founded by English clerics as a model Anglican colonial settlement. The architecture is neo-Gothic with buildings carefully planned around a central park and the meandering Avon river. The students here all wear uniforms and the people in general are extremely nice and talkative.
Tomorrow we will go and try out our clothes at the clothing distribution center.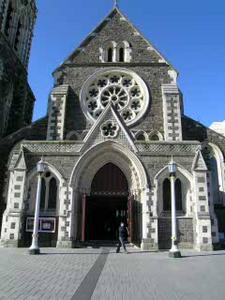 The Cathedral at Christchurch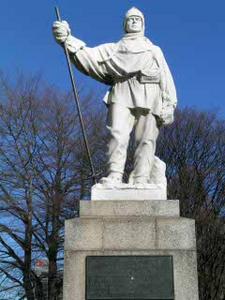 Statue of English Antarctic Explorer Scott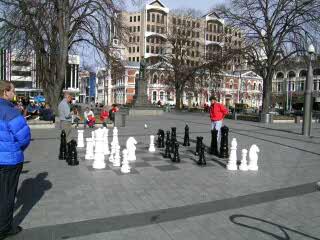 Playing Chess in Cathedral Square
---
Contact the TEA in the field at .
If you cannot connect through your browser, copy the TEA's e-mail address in the "To:" line of your favorite e-mail package.