19 August, 2003
Clothing Distribution Center
Today we took the shuttle back to the airport where the International Antarctica Center (centre) is located. The clothing distribution center is located there and we are going to be fitted with our cold weather gear. On arrival we watch a video explaining how our life depends on properly fitted clothes. Then our group of about fifty head into the dressing room to get fitted. Two orange cloth bags contain all our clothes and our boots. There are numerous gloves, a large parka with our name on it, several pairs of long underwear, jackets, hoods and socks. All give layers and layers of insulation. After putting it on you feel way too overdressed and it is hard to hear with your hood covering your ears. The boots are made with an insulated gap of air sandwiched between the rubber super structures, there is an air release valve so that the air will not expand while in flight and burst the boot. We have to remember to release the valve when we board the flight. I am lucky with all my clothes as they all fit on the first try.
We will be traveling in a C17, this is a jet plane so the flight tomorrow should be a quick five hours. We will leave at 3 in the morning to pack, and then fly out at about 6. The goal is to arrive in McMurdo around noon so that we will have maximum light, although that will be more like dusk at this time of year.
In the afternoon our research group rented bikes and we rode through Christchurch down to the beach. When we arrive back in the evening we learn that the weather in McMurdo is tentative for a landing. On a scale of 1, 2, or 3, we are now at a 2 which means marginal. Our flight is delayed two hours. We will need to leave the hotel at three in the morning.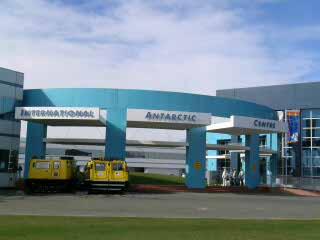 The International Antarctic Centre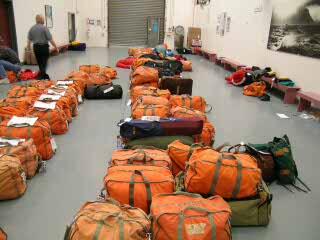 All your clothes must weigh less than 70 pounds.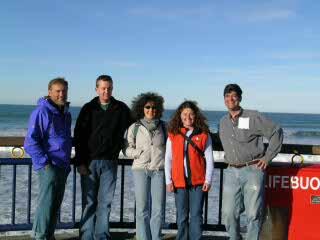 AT the Pacific Ocean looking West, Terry Deshler PI, Brad Range Antarctic Scout, Paola Masoli Researcher, Jennifer Mercer Post Doc, and myself.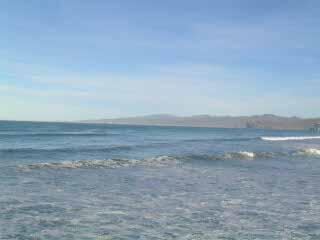 This Way to Antarctica, in the distance are boats loading into Littleton harbor where cargo is shipped destined for the Antarctic
---
Contact the TEA in the field at .
If you cannot connect through your browser, copy the TEA's e-mail address in the "To:" line of your favorite e-mail package.