9 January, 2001
Large soft, powdery snowflakes are floating to the earth from the gray precipitation filled clouds above. Surrounded by igloos, snow mounds and snow walls, that have all been mutated by the sun, resembling something out of a Tim Burton movie, I am about 4 miles from Mac Town in Mound City. Mound City is located on the ice flow, the result of a glacier spilling out onto the ocean. Here eight of us are learning about surviving in the extreme environments of Antarctica. Discussions of deadman anchors, losing fingers, using your instant dinner as a hot water bottle, it's all part ėSnow School" or Happy Camper School".
This is the course you take if your work or science team takes you away from Mac Town. Ted our instructor possesses the rugged build of someone who has challenged the environments. He is one of those people that you feel comfortable trusting with your life, knowing he would know how to do the right thing in all the wrong situations. Our first task was to put up a Scott tent and learn how to anchor it against the wind. Next we built a snow wall, to shelter our tents, by using hand saws to hack out bricks from the snow. After hefting several of these bricks into place you find yourself wishing the rest of the members of the course were all exfootball linebackers looking for a good work-out.
I found myself a one room igloo with a view for the evening. While not official, I think I think I set a world record and pulled several muscles while changing out of my wet clothing inside my sleeping bag. Finding and closing the cinch strings on my bag was the next activity. I think manufacturers of sleeping bags hide these strings, giving you one more reason for planning your vacations in the warmer latitudes. Eventually the shivering decreases as my body warms the air inside the bag and peace and silence fill everything. The midnight sun clearly shows the gaps between the bricks, making you wish you had spent more time with the shaping saw. This light also penetrates the snow bricks painting the interior with the purest blue. In this moment it feels so right.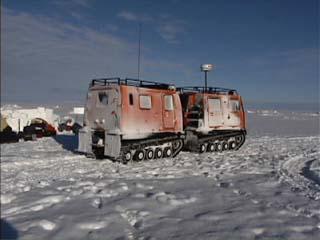 Transportation to Mound City was provided by the 007 Moonracker.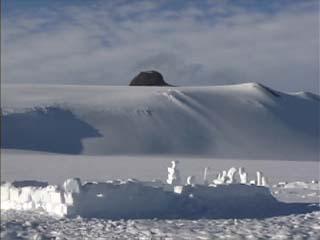 Mound City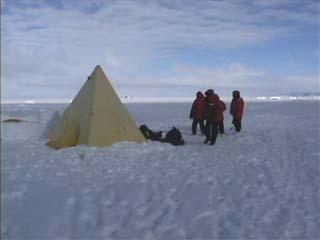 Scott Tent- sleeps two, nice views, no neightbors, utilities not included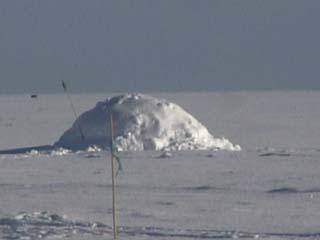 Small but the price is right. My evening igloo.

The active volcano Mt. Erebus can be seen from my igloo
---
Contact the TEA in the field at .
If you cannot connect through your browser, copy the TEA's e-mail address in the "To:" line of your favorite e-mail package.