13 May, 2003
SHACO (Shallow Coring)
In addition to the intermediate depth ice cores (150 meters) being drilled at 2 sites, there is another team of 3 collecting shallow depth ice cores (30 meters) at 9 locations across the ice cap as part of a NASA project to study whether the Greenland ice sheet is getting bigger or smaller and what these changes mean for future sea level. The shallow ice cores will be used to understand snow accumulation rates and patterns.
An average day for the shallow ice core team involves meeting the twin otter airplane at the Kangerlussuaq airport and loading it up with about 1200 lbs of drill, core processing, survival gear, and people. The plane takes off and flies from 1.5 – 3.5 hours to the location of interest, sets down on skis and the work begins. First the plane is unloaded and the drill site is chosen. The driller, Jay Kyne, collects the first core using an auger and gradually adds extensions as he drills deeper and deeper. The ice core is brought up in 1-meter lengths then it is processed by Dr. Joe McConnell and put in special tubes and boxes for shipping back to Reno, Nevada to be analyzed. The twin otter pilots help get the job done. Because the team is on the ice for just a few hours at a time, they only set-up minimal wind shields so they work quickly to collect the ice core. Of course they carry survival gear just in case they may need to stay at the core site for a day or more due to a sudden change in the weather or a problem with the plane.
Survival gear for one-person weighs 37 lbs and consists of:
Snow shovel
Saw
Hammer
4' bamboo poles
tent
sleeping bag
2 sleeping pads
cook stove, cook kit, fuel
4 2-person dehydrated meals and power bars
hand warmers, candles, matches, signaling mirror
The team is already wearing several layers of cold weather clothing and very warm boots.
Finally when the core is collected and everything is re-loaded, the plane flies back to the airport in Kangerlussauq. The team then waits for the next good weather day to go to another site to collect shallow ice cores. If two sites are located near each other, the team will sometimes stop at two core sites in one day.
Dr. Joe McConnell is the principal investigator and lead scientist for these two ice coring projects. Joe has been interested in snow, ice and the outdoors for most of his life. In high school is was a member of the local search and rescue team and climbed many of the tallest peaks in the United States and Mexico. Before going to Yale University to study Geology and Geophysics, he successfully started and ran a soil and water sampling company working with the Department of Energy. After Yale, he studied Geophysics at Stanford University and then worked in oil exploration in Greenland, Alaska, China, South America and England. He left the oil business to study Hydrology at the University of Arizona focusing on global climate change as reflected in changes in ice caps of Greenland and Antarctica. Joe's never-ending interest in how natural systems function is contagious in the field. Jay Kyne, the head driller, is a math teacher at Crownpoint Institute of Technology on the Navajo Reservation in New Mexico when he's not out on the ice. Jay is an engineer by training and puts his natural abilities and innovation to work making field modifications as needed to get the ice core as efficiently as possible. Joe and Jay have worked together for several years now and are a great team, drawing on each other's strengths. They enjoy their time together collecting data.
Who knows you may end up making a career out of something you love doing now!

SHACO site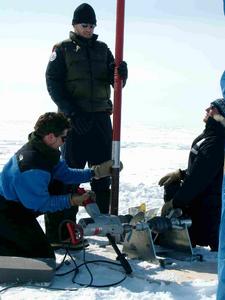 Jay running the prairie dog drill collecting a shallow core.
---
Contact the TEA in the field at .
If you cannot connect through your browser, copy the TEA's e-mail address in the "To:" line of your favorite e-mail package.