Hello from Chippewa Falls, Wisconsin. My name is Lars Long. I teach 7th grade Life Science and 8th grade A.P. Biology for gifted students at DeLong Middle School in Eau Claire, Wisconsin. DeLong Middle School is a large school with approximately 1000 students between 6th and 8th grade. We are lucky to have an ethnically diverse student population. Along with teaching, I have enjoyed coaching a variety of sports including football and wrestling which are my favorites.
I have lived in either Wisconsin or Minnesota for my entire life. After growing up in St. Charles, Minnesota, a small, rural agriculture community, I moved to Eau Claire, Wisconsin to attend the University of Wisconsin - Eau Claire. During the 35 year plan2 I attended a semester abroad program that allowed me to go to school in the South Pacific (Fiji, New Zealand and Australia). After graduation, I enjoyed a two-year stint teaching in the suburbs of Minneapolis and St. Paul. The congestion finally got to me and I moved back to the Eau Claire area. I recently finished building a house out in the country on six acres where I can enjoy watching the deer, wild turkeys, etcS as they trim my garden and perennial flowers!
I have found that I have a passion for teaching middle school students science. My interests outside of school are related to science, so it is natural for me to bring back ideas to the classroom. My enthusiasm either excites them or they just think I am a science geek. Either way, they are interested!
Teaching has also let me travel due to extended periods off and educational offerings. During my first two summers, I blew all my profits and traveled to Alaska and the following year to Ireland. Recently, I traveled on a month long trip down the Seal River, which has long difficult sections of whitewater until you drop into Hudson Bay to visit the polar bears and beluga whales. A trip of a lifetime! These trips were mainly for fun but any science teacher ends up bringing photos and trinkets back in their backpacks! My poor wife's present was a beluga whale skull that sat on our roof while it bleached out. Educational programs such as Earth Watch and Project Sea have allowed me to travel to Costa Rica to study manatees and crocodiles and to sail the Atlantic Ocean to study general oceanography. I have found that these programs keep me motivated to teach students and change my curriculum.
I have a wonderful wife, Melinda and a loyal yellow lab named Ole. I am very lucky, as they usually understand my itch to travel. Ole is a great hunting dog but his loyalty is wavering and soon could spend most of his time with Melinda.
With all of the extra spare time, I enjoy hunting, fishing, camping, hiking, canoeing, etc . . . Anything that gets me outside!



Greenland's Ice Sheet: Tales of the Past and a Look into the Future?
Joe McConnell
Desert Research Institute, Reno Nevada
According to legend, Eric the Red, one of the first Norse settlers in the region, went back to Iceland after living three years on the largest island on Earth. To encourage his fellow countrymen to start a new life on the island he named this island Greenland. Greenland is known more for its ice than lush green hillsides as the name hints. Greenland has so much ice that if all the ice in Greenland were to melt, the oceans would rise about 7 meters (22 feet)! In May of 2003, I will have the exciting opportunity to travel to West Central Greenland to work with Dr. Joe McConnell from Desert Research Institute (DRI).
Our team will meet in Albany, New York before flying to Kangerlussuaqg, Greenland. I will be part of a 5 member drilling team that will be located on West Central Greenland. We will be drilling two different ice cores sponsored by the National Science Foundation (NSF). Communications will be done through an Iridium satellite phone capable of connecting to internet and e-mail. The temperatures in May will range from -10 Celsius to -50 Celsius. Because of the cold, communications may be difficult as cold temperatures hinder LCD computer screens and battery strength. Did I forget to mention that we will be staying in tents?
The cores will be approximately 150 meters deep dating back approximately 230 years. Ice cores carry information that is similar to growth rings on a tree. By looking at the rings of a tree, scientists can predict what growing seasons were like when the tree was alive. Similar to rings in a tree, ice cores can also give information about the past as well as help predict what could happen in the future. Ice cores can be used to reconstruct atmospheric conditions, evaluate environmental pollution and study major climate changes.
In 1783, a large volcano erupted in Iceland. Because of the large amounts of ash that was sent into the atmosphere, the ice that formed in 1783 will have parcticles of ash present. This line will serve as a time line reference. Ice also captures the impurities (pollutants) that are circulated in the atmosphere. With new standards that are being established to minimize pollutants being released by automobiles, boat motors, etc., ice core analysis has shown a reduction of pollutants in the atmosphere since the new standards were established.
The analysis of the ice cores does not take place in Greenland, but in DRI laboratories in Reno, Nevada. The ice is melted and tested with a mass spectrometer. A mass spectrometer is able to determine the different quantities of elements that are found in the ice at a parcticular time period. The new technology used to analyze ice cores has provided information about the Earth's past as well as glimpses as to what could come.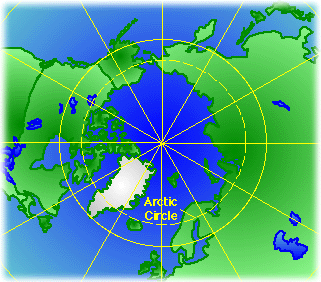 Be sure to check out the images in the journal entries!