17 May, 2003
Weather: We are again stuck inside!!! When we finished on Friday night we could see in the horizon dark clouds that appeared to be full of moisture. In front of the dark clouds were wispy clouds that indicated high winds were also on their way. Our forecast was true!
Camplife:
As the snow pounded down the wind picked up to a high of 50 knots. Our tents are only about 50 steps from the cook and poop tent and neither of those could be seen. At all times goggles needed to be worn as the snow felt like sand paper in your eyes. The drill site could not be seen except for the top of the tower rig. If individuals went to their tents they put in earplugs to help drowned out the noise so they could sleep or read. About 9pm the wind died down so we could assess any damage. The drifts around the drill site were about 5 feet tall and covered up everything. We decided to dig out that night so we could start drilling early in the morning if the weather finally settled.
Another day of book club was enjoyed as well as a few games of checkers. We drew out our own board and made chips out of a Nabisco cracker box. At the end of the day everyone wanted to play me, as I was terrible.
Biography:
Dr. Greg Lamorey is the head scientist on this research team. Greg lives with his wife in Carson City, Nevada, which is near Reno, Nevada. Greg went to college at University California – Davis and got a bachelors degree in geology and a master's degree in engineering. He followed is master's degree with a PHD from University of Nevada – Reno in hydrology. Currently, he works for Desert Research Institute (DRI) in Reno, Nevada. He enjoys spending time outside cycling and backcountry skiing. It is also obvious that he enjoys his two border collies that his wife Susan shows on a competitive level. Susan is a middle school teacher so she can put up with any of Greg's antics! Those middle school teachers are tough! On a professional level, Greg enjoys the challenge of fieldwork and having to improvise for situations that spring up in the field. Studying ice cores has kept him interested, as it is a relatively new field that allows him to develop many of the new techniques to analyze cores. Dr. Lamorey has spent numerous seasons at Siple Dome in the Antarctic as well as many seasons in Greenland at Summit Camp. On a personal note, I have realized this beaker (slang term for scientist) is more than just a scientist. He is in this field to improve on the knowledge that can be used to help interpret how our Earth is changing. He is a practical person who knows the value of friendships and hard work. It was truly a pleasure working and learning along side Dr. Lamorey.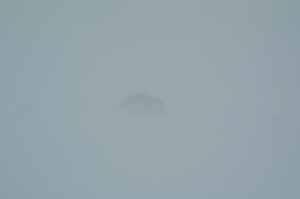 This is my tent as I am walking from our cook tent. It was a little scarey not be able to see it as I left the tent.

Dr. Greg Lamorey on a cold frosty day.
---
Contact the TEA in the field at .
If you cannot connect through your browser, copy the TEA's e-mail address in the "To:" line of your favorite e-mail package.