8 August, 2000
August 8 , 2000
Matanuska Glacier, Alaska
It was another warm, beautiful day to be out working on things and we wrapped up our dye tracing studies with a simple test. We used a surface stream that temporarily went down into a crack and then resurfaced some distance away. We weren't exactly sure that it was the same water at both ends but that turned out to be the case. We could even visibly see the dye in the samples because it had not become too diluted and there's no suspended sediment to cloud the surface waters on the glacier. We will be comparing the shapes of our concentration curves to the one we get in this test on a known flow system.
In the five plus weeks that I've been here I have done a pretty fair amount of hiking to different locations on and around the glacier. In addition I have made daily hikes to access a phone line at night to upload my journals and pictures. Inevitably I would have to encounter some of the wildlife that inhabits the area. Earlier in the morning on the day I arrived in camp on July 3 Ben Cashman and Josh Lawson had accidentally gotten too close to a moose and calf while hiking to camp. The cow reacted by charging them in an effort to protect her calf. It was simply a case of them not seeing the moose and vice versa. I certainly did not want to be charged by an angry moose so I always kept alert to their possible presence wherever I walked.
It would be two weeks before I got my first look at a moose. I had wanted to see them very badly and the guys told me that they'd browse the camp occasionally. One night at about 11:30 as I was walking back from sending a journal I kept thinking about seeing moose. Even though it was late there was still plenty of light to see. As I neared the shortcut across the airstrip I suddenly noticed the cow and calf were directly in front of me about 50 yards by a pile of spruce logs. I stopped in my tracks and we watched each other motionless for a couple minutes. I then thought it would be best to backtrack a few steps and cut across the grass on the side of the runway rather than the gravel on the strip. She seemed OK with that and continued to graze. I kept glancing her way as I walked and eventually the wood pile blocked my view. But then she appeared again on the other side of the pile. She had not forgotten about me yet!
I would see several moose at different times and it always seemed to be on my hikes to and from the phone in the late evening. On another occasion I saw a different cow and calf. This time they would either have to move or I would have to take a very long detour to get where I was heading. It turns out they continued to travel parallel to the direction I was heading. This was not what I was hoping for and at one point I lost sight of them in the woods. At this point I continued walking but also began to clap so that they could tell exactly where I was. Finally I saw them both cross the road in front of me and run off in the distance.
One night I heard the strangest sound up ahead of me that sounded like some sort of weird raven squawk. I heard it several times before I could finally see what is was - a fox barking out warnings to its family.This family of fox lives in another pile of spruce logs along the hike to the phone. It is almost a regular nightly event to interact with the fox. They will always run a short distance and then stop and turn to stare at you. This stare down could go on forever it seems but once you make another move they'll run and turn around again. I kind of enjoy playing this game with them at night.
I have not seen any bears at all but there have been a few sightings of them (grizzly) here on the island, but not near camp. There are bear droppings on the trail to North Vent but no tracks anywhere. I've been told they generally tend to stay on the other side of the river and that there's really nothing that would attract them to the island. On the other hand I see lots of moose droppings and tracks just about everywhere. A couple of the guys saw some sort of a cat, possibly a lynx, one evening near the highway. In camp we always have to chase squirrels away from the tents and food supplies and Alaskan Jays are always flying in looking for food scraps. Quite often eagles can be seen and heard soaring above. Once when we dumped dye on the glacier a couple large crow-like birds swooped down, apparently drawn by the blood-like appearance of the water. Occasional rabbits are seen as well. Sheep may be seen high on the mountains along the highway. And the moose still likes to browse through camp on occasion!
Marvin Giesting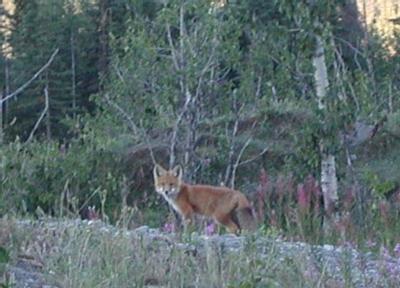 One member of the fox family keeping a close eye on me. Usually I first spot them by the white tip of their tail when they run. I'd possibly never notice them if they didn't run.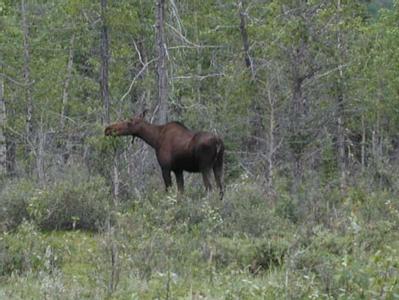 One of many moose that have been around the camp. These guys are pretty big!
---
Contact the TEA in the field at .
If you cannot connect through your browser, copy the TEA's e-mail address in the "To:" line of your favorite e-mail package.