27 November, 2002
27 November, 2002
New Zealand's yellow pages features these categories :
Tramping equipment
Transportable homes
Barristers & Solicitors
Squash Courts
Ship Chandlers
Prams & Nursery Furniture
Seed Cleaning
Trotting Sulkies
Zips
Belting
Cladding
Emu Farming
Ostrich Farming
Geologists
Geophysicists (separate category)
Hire-Party
Indent Agents
Kohanga REO
Lime Merchants
Pig Farmers
Saw Doctors
Christchurch is a beautiful city, and I took a long walk yesterday through the botanical gardens and the downtown. Within a half a block of my hotel, I stopped to get out my camera. It's all very familiar, but there are so many oddities: the way mailboxes are set into doorways, for example. The gardens were immaculate and immense, and being late spring, the rhododendrons were still in bloom. Familiar North American trees: redwoods and giant white oaks.
On one side of the gardens, past an immense island of irises, there's a high brick wall with an arched doorway. Lots of shouting on the other side. Looking through, groups of school kids from Christ's College in shorts and knee high socks were getting lessons in fighting with sticks and marching.
There's a meandering river called the Avon which snakes through the entire area: the gardens, then around through the downtown. Weeping willows overhang it everywhere. Ducks like it, and you can hire boat and be "punted" around.
At the edge of the gardens is the Canterbury museum, which has probably the world's finest exhibit on Moas. The giant flightless birds were gobbled up by the Maorie, New Zealand's indigenous population, not long after they arrived by canoe from elsewhere in Polynesia. Exhibits on other New Zealand wildlife, much of it very threatened. The islands had no land mammals at all (except for bats) before people came. You can imagine the effect unleashing rats, for instance, had on the native ecology, where many types of predator-less birds had become very carefree.
There's also a nice exhibit on Antarctic exploration on the third floor. Displays on each of the major early expeditions behind glass hold the standard knick-knacks medals, china from the boat, boots or gloves. Unbelievable. Amundsen's quote (more or less): "the advantage of dogs? Dogs eat dogs."
Across the street is the former Canterbury University, now a multiuse city block of Gothic buildings : a brewery, a kite shop, an internet café, a couple of theaters. I discovered Ernest Rutherford's Den. It turns out the Nobel Prize winning, nucleus-of-the-atom discovering physicist studied at Canterbury before going off to England, and the site of his undergraduate lab is a small museum. He had to beg a basement cloakroom, useful for its solid concrete floor, from the university in order to run electricity & magnetism experiments. The exhibit's high-tech, low content. In the basement, a sort of holograph is projected of an actor pretending to be Rutherford, lecturing in a sort of drony, English-stuffed shirt way. I was disappointed by the lack of science stuff, although they had a really nice static charge demonstrator that made 2 inch sparks. But Rutherford's best quote is conspicuously absent : "All science is either physics or stamp collecting." One year, for a final, I had physics students write about what he might have meant by that.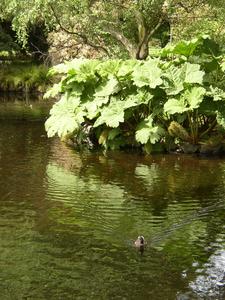 The duck is a high energy neutrino, the pond is the ice, the waves represent the cone of faint cerenkov light the AMANDA detector sees as evidence that a neutrino has passed. Or, it's a duck in a botanical garden in Christchurch, New Zealand. Take your pick.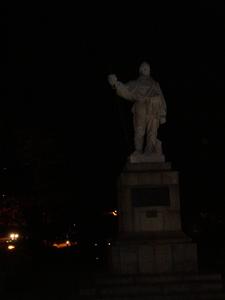 This is Robert Scott, who mounted the SECOND successful attempt to get to the South Pole. But he died with all companions on the way back. Not good. But he's quite the British hero of the Empire, and there's a quote on the statue, something to the effect of "I'm proud to be an explorer and die." Something like that. The statue was carved by his widow ! (Honey, are you reading this ?)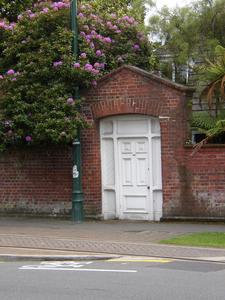 This beautiful little doorway into a secret garden is right across from my hotel in downtown Christchurch.


A panoramic picture of the Rose Garden in the Botanical Gardens in Christchurch, New Zealand. I made it by electronically stitching 10 individual pictures together. Due to limited time and battery, I didn't have time to experiment to make it perfect. But I tend to like the odd things that happen in this technique, anyway. Look for more of this from the southland.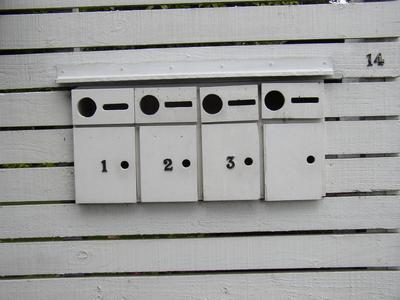 Today I saw a mail carrier riding a bike stuff these boxes without stopping. The boxes often carry a little sign that says, "No circulars, please."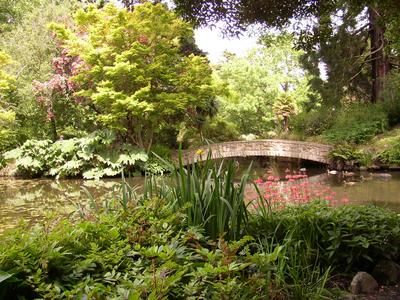 The Botanical Gardens in Christchurch. It's soooo nice here.
---
Contact the TEA in the field at .
If you cannot connect through your browser, copy the TEA's e-mail address in the "To:" line of your favorite e-mail package.