28 November, 2002
28 November, 2002
Up at 4 this morning. I chewed up the remaining battery on the computer downloading and processing pictures, finished my book, listened to the birds singing (the songs are new to me), and took a walk around town. The coffee cold turkey I've been on has been helped by New Zealand. There are certainly coffee shops around, and a Starbucks in the Cathedral square, but at the Windsor Bed & Breakfast, it's tea time all the time.
I met the other 3 guys I came in with: Mike Kuiper, an Australian working in Kingston, Canada, Mike Janech, nearly finished with graduate school in South Carolina, and Jim Raymond, their group leader, who teaches at the University of Nevada at Las Vegas. They are headed to McMurdo to do research on algae, and are a good source of information, as they've been south before, except for Mike J. We had a long breakfast, then Mike J and I headed out to the beach by bus.
New Brighton has a long new concrete pier, and guys fishing out at the end. A big new library & café overlooks the pier & beach. They MUST not have very big storms here, even though they're facing a lot of unimpeded ocean. The huge old trees in the botanical gardens support this notion. What a nice place for folks from England to end up!
We all rode out and picked up our cold weather gear for the flight tomorrow. Trying it all on really warmed me up way too much. I have eight different kinds of gloves! And I brought a lot of my own, too, not knowing what to expect from the fearsome combination of cold & kite flying.
6:30 am report time tomorrow. I'll do a load of wash tonight, and jumble some things around in my bags. I get to wear a large part of my cold weather gear on the plane, and a small hand-carry bag has to hold the rest, including anything I might need if (when?) the plane gets grounded or turned around. All the other stuff gets "turned in" and I won't see it again until McMurdo. Or maybe the Pole?

A view from the pier at New Brighton, near Christchurch, New Zealand. The picture was made using the panoramic feature of my new Olympus digital camera. Look for more of these...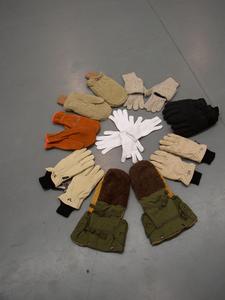 The gloves and glove liners issued by Raytheon are, well, enough for anybody. Except me. I brought along about 6 additional pairs of different types, specifically for kite flying, where some use of the fingers may be crucial.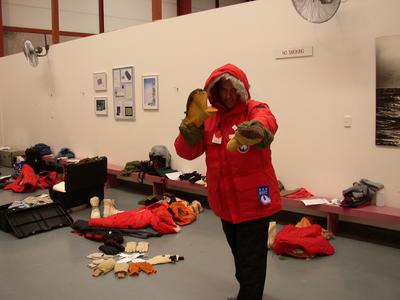 Trying on the gear. Does it make me look fat ? I got a new parka, but in delightfully warm New Zealand, it was pretty warm. There was a huge amount of information thrown at us, and I was glad some of the other folks knew what they were doing. I just followed along.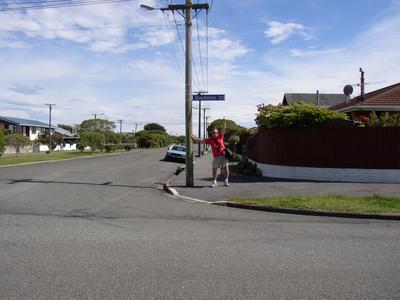 If, like Shackleton, I have a bad time in Antarctica, I may get a street named after me, too.
---
Contact the TEA in the field at .
If you cannot connect through your browser, copy the TEA's e-mail address in the "To:" line of your favorite e-mail package.