12 November, 1999
You can't throw anything away in Antarctica, as there is no "away" there. Antarctica is the last pristine environment in the world, and we want to keep it that way. Here, man's presence is unavoidable if research is to be done, but every effort is being made to reduce the effect of our activities on the ecosystem. Today we learned about how trash is handled in this fragile wilderness.
As recently as 1990 opening pits of burning trash could be seen at Mcmurdo station, and trenching was used to dispose of solid waste at the south pole. Since 1993 a waste management program has been in effect which requires that all materials brought to the continent be removed from the continent. In 1998 that meant 5 million lbs of trash were returned to the US from Antarctica. One million lbs of that was classified as hazardous waste. Today the US employs 12 people (10 at Mcmurdo, 2 at the pole) to sort, identify, label, containerize and ship discarded materials back to the US.
Many US cities recycle, but even the top town can only claim a 30% rate. Mcmurdo recycles 70% of the materials that come here, primarily due to the awareness of the people who work and live here.
To help in this process people coming to Antarctica are asked to remove as much packaging as possible from items they are bringing. On the list of items not to be brought at all are aerosols and plastic packing peanuts. Both of these are difficult to deal with and cause problems to the environment.
There are three categories of trash the waste management department must deal with. First is solid waste. This includes all recyclables, (glass, aluminum, other metals, and plastics), all burnable, and disposables (construction wastes). Secondly there is the hazard waste, which includes paints, glues, many chemicals used in the science labs, gas, oil and other petroleum products. Both of these categories need to be shipped back to the states for further processing. The third category is human waste. At the base, sewage is released directly into the bay. Scientists working in the field camps, however, use large drums to collect liquid human waste, and smaller plastic containers for solid waste. More about that when I am in the field myself.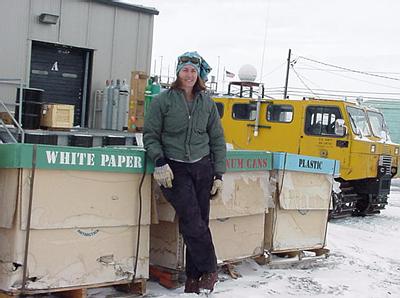 Susie Heyob works for the waste management department at McMurdo station. She has a degree in urban planning but decided to work in Antarctica for the adventure of it. At home she would not select a job in trash collection but doesn't mind it here because in Antarctica there are no flies, or other insects to deal with. Since everything gets frozen, nothing smells. Her daily routine includes walking around the town in the mornings to find full dumpsters, driving a fork lift to gather dumpsters for processing, running the balers and giving trash sensitivity talks to new McMurdo arrivals like me.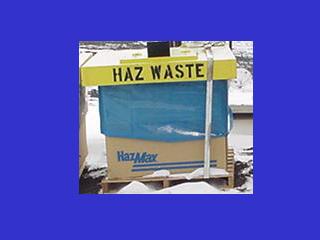 Hazardous waste must be handled separately. One million lbs of this was shipped back to the US last year.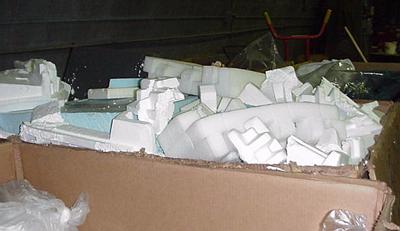 This material is parcticularly hazardous because of its light weight. The wind blows constantly here and styrofoam can not be collected if it gets away. People are asked not to use it for packing when coming to Antarctica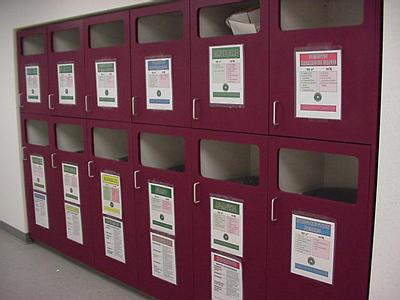 Indoors, throughout the buildings of Mcmurdo, the same system of trash sorting is done before it is collected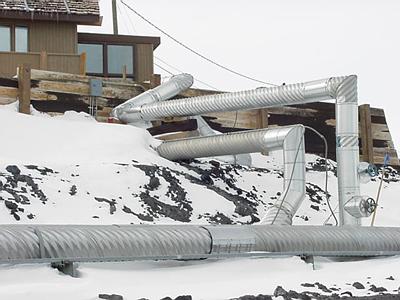 Sewage from the living quarters at Mcmurdo is pumped directly into the ocean. These pipes carry human waste from the buildings to the bay.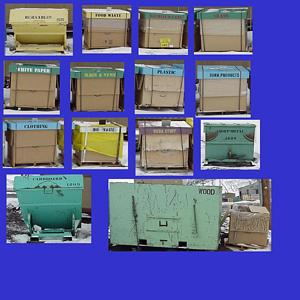 Visitors to Mcmurdo sort their own trash into 13 different catagories. These bins are then collected for processing and shipment back to the US.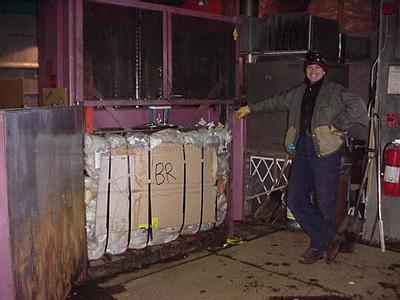 One of the waste management crew running the baler. This machine compacts paper and some plastics for easy shipment.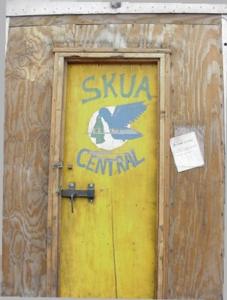 Skua Central is a place at Mcmurdo which takes recycling seriously. As the waste management personnel sorts the trash, they frequently find items with life still in them. Thes items are then placed in sku central. Any resident can come and take what they want after signing a log letting management know what they too. The day we were there, everything from computer printer cartridges, to boots, to furniture, to food items were looking for a home. I took some new boot liners to use as house sippers in the hut on ERebus.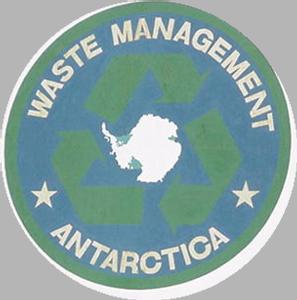 The symbol of recycling in Antarctica. Everyone here takes this commitment seriously and works hard to reduce man's impact on this environment as well as the world.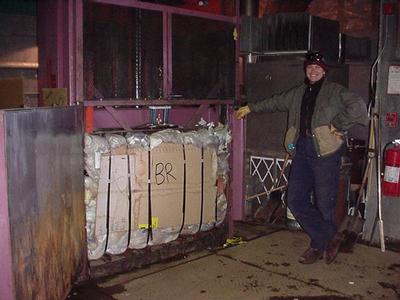 This machine smashes and bales paper and some plastics for easier shipping back to the US.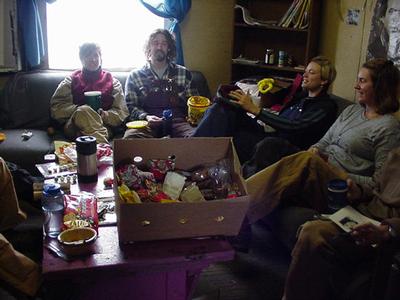 Here are some of the people at Mcmurdo who work in waste management. . Why do they come here? Some for the adventure, some because it is so remote, some because it gave them a free trip to Antarctica and they get paid too. Others came so they could see a penguin. All of them, however, are dedicated to keeping this fragile environment a beautiful and clean place
---
Contact the TEA in the field at .
If you cannot connect through your browser, copy the TEA's e-mail address in the "To:" line of your favorite e-mail package.