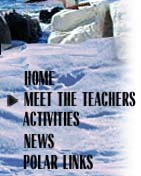 14 November, 2001
This morning I found myself walking briskly along the River on Avon in order to meet up with Jan French. Fortunately, I was not tardy and had little problem locating Jan. She was the woman standing with an assortment of devices allowing her to move about with her recently broken and dislocated ankle. An ankle that required quite a bit of surgery to patch it up. Jan is quite the trooper with incredible determination. Despite having broken her ankle only a week before in Antarctica, Jan was set on getting out of her hotel room in order to see a little of the New Zealand countryside. We headed toward a small harbor town called Akaroa, about 82 kilometers from Christchurch. Geologically this town interested me becuase it is found inside the rim of an extinct volcano. One portion of the volcano eroded away allowing the sea to flood the crater, providing an outlet to the Pacific Ocean. Our purpose of this journey was to find a boat that would bring us out of Akaroa Harbor in search ! of the rare Hector's dolphins, little blue penguins, and New Zealand fur seals. I still am not quite sure how Jan did it, but she somehow managed to get on the boat. Using the combined skills of a Mongolian contortionist and an olympic gymnast, she ungracefully worked her way to the top deck...a prime location for viewing the marine fauna. It did not take long for us to spot our first dolphins breaking the blue-green water of Akaroa Harbor. It seemed that these Hector's dolphins were more curious about us than we were of them. I believe the highlight of the day was when Jan spotted a little blue penguin. Penguins are only found in the Southern Hemisphere, so this was my first view of one in the wild. The penguins sighting reminded me that off in the distant horizon lies the elusive continent of Antarctica.

Jan and Jason overlooking Akaroa Harbor
---
Contact the TEA in the field at .
If you cannot connect through your browser, copy the TEA's e-mail address in the "To:" line of your favorite e-mail package.