15 November, 2001
Murphy's Law states that if something can go wrong it will. Living only by this law can make life pretty gloomy at times. Hence, I decided to add one more law to the order of the universe. Petula's Law states that if something does go wrong, keep working at it becuase it will eventually work itself out. Every piece of equipment that I brought with me has been plagued by problems, the latest being a stuck shutter on my manual camera. However, as with most things in life, a bad attitude will not get you very far. This is especially true in Antarctica! Instead of getting frustrated, I got busy and worked through the night reading manuals and making repairs. The good news is that everything is now operating correctly...and not a moment too soon. I am departing for Antarctica tomorrow morning. Today I had to return to the International Antarctic Center to visit the Clothing Distribution Center (CDC). Most members of the United States Antarctic Program pass through the CDC to get fitted for their Extreme Cold Weather (ECW) gear. Each piece of clothing that is traveling with me to the ice had to be tried on to ensure a proper fit. This is very important becuase once you are on the ice you are basically out of luck if something does not fit correctly. Proper fitting clothes can make a big difference in whether you are warm or not. Since I will be working outside at the South Pole, I made sure everything fit just right. Once everything was found to be in good order, the bags were repacked. One bag goes in the cargo hold of the plane, whereas the other is your carry-on which contains the clothes that are required to be worn on the plane. The following items must be worn for all flights to and from Antarctica:
Thermal underwear Wool socks Fleece jacket
Fleece pants Windpants Parka
Mittens Neck Gaiter Furback mittens
Cap Goggles Bunny boots
Tomorrow I am required to be at the International Antarctic Center at 6:00am to begin deployment procedures. This will involve getting dressed into all of the above mentioned clothing, passing through security, and eventually boarding the LC-130 Hercules tranport plane. Next stop...Antarctica!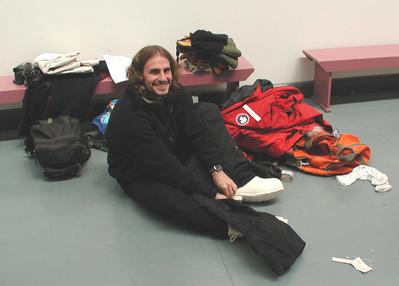 Trying on Extreme Cold Weather (ECW) Gear at the Clothing Distribution Center (CDC)
---
Contact the TEA in the field at .
If you cannot connect through your browser, copy the TEA's e-mail address in the "To:" line of your favorite e-mail package.