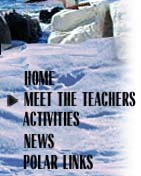 3 December, 2001
SOUTH POLE HUMOR
Anyone who has ever worked very hard under extremely difficult circumstances knows that a little humor can break the tension. The construction of the new station has been adding to the stress levels of those working here. A certain amount of work has to be completed before the sunset, which will be in March, or the project's completion will be delayed. One task that must be completed is tunneling. A converted Bobcat was designed to do the job more efficiently and hastily than by physical labor. Since arriving last year, the tunneling device, nicknamed El Grand Chingazo, has been extremely problematic. The gifted mechanics tried everything to repair the machine, but their efforts were in vein, for it still continues to break down frequently. The machine is essential for the tunneling to be completed, so out of desperation and to make light of the situation, this e-mail was sent…
"The South Pole Mining Crew invite all interested community members to a Sunday afternoon exorcism of El Grand Chingazo. This piece of mining equipment, a heavily modified Bobcat with Kabota snow blower, is apparently under the influence of extremely negative mechanical energy; a.k.a. "evil spirits". Some theorize that micrometeorites from the region of black hole C-791 introduced the dark energy. As you know, these small meteorites are present in the dense snow layers that Chingazo tunnels through. How can you help? Your positive energy, optimism and good humor may be able to override the forces that have debilitated Chingazo to the very core of its' being; the hydraulic pump. If you feel called, be there! Bring favorite incantations, libations and talismans. This is a non-denominational event and will probably be unlike any exorcism you've ever been to before."
Of course, I could not resist attending this unique farcical event. Approaching the mechanics workshop, the rhythmic beats of primitive drums penetrated the cold air. A red light illuminated Chingazo, casting a unique hue of shadows on those who had arrived to witness the event. The drumming ceased, and the two mechanics began the exorcism. The humorous ceremony lasted for thirty minutes. The basic intent was to drive the evil spirits out of the possessed machine. Many people brought offerings in hopes that they would do the trick. One man played the bagpipes in hopes of driving the evil spirits out of the machine. Another man pronounced, "I have an offering of something that nobody wants. This can repeal anything!" and then proceeded to shower Chingazo with lima beans.
When the ceremony ended, everyone congratulated the mechanics on their performance and creativity. A lot of tension was relieved, so everyone went back to work. As I left the exorcism area, the mechanics began putting a new hydraulic pump into the Bobcat. I wonder if the evil spirits expelled from Chingazo possessed the telecommunication system, for today my scheduled Internet broadcast was cancelled due to communication problems. Maybe another ceremony is in order?
Biological Data
Saturated Oxygen: 93%
Pulse Rate: 85
Weather Data
Temperature: -31.3 F
Wind Chill: -43.4 F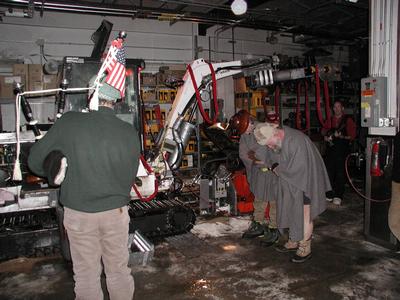 A Bagpipper parcticipating in a new approach at Bobcat repair.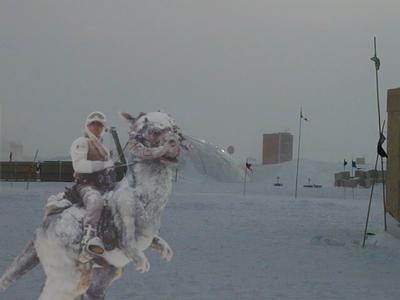 A tauntaun at the South Pole, more cold humor!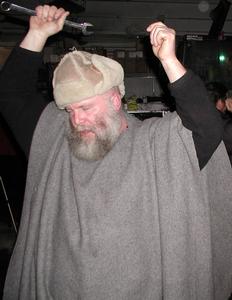 Big John trying a unique approach to Bobcat repair.
---
Contact the TEA in the field at .
If you cannot connect through your browser, copy the TEA's e-mail address in the "To:" line of your favorite e-mail package.