29 March, 2000
A Light to Guide Us
63 04 s, 63 06 w
10 nautical miles (11 miles) SW of Cape James, Smith Island, South Shetland Islands
Temperature -1 C (30 F), winds S @ 6 knots (7mph), barometer 1011.4 dropping slowly
Sky broken overcast, waning crescent moon occasionally visible. No precipitation.
Depth 698 m (2290 ft.)
Course 340 @11.5 knots
Most everyone has seen a fireworks display at one time or another, and if you have you know that the best part, with the continuous booms and sky full of colors, occurs at the end. The same can be said of our Antarctic journey. The best scenery has come on the last day we'll be in sight of land in Antarctica. Even the weather has cooperated!
We left Palmer Station today just after noon, and have voyaged up the famous Gerlache Strait, which separates the Palmer Archipelago from the Antarctic Peninsula. Follow our route on a map: Leaving Palmer Station, we went southeast along the south coast of Anvers Island, then northeast into the Gerlache Strait with Anvers Island on our left, and the Danco Coast on our right. Further north, Brabant Island was on our left about sunset, and we passed Two Hummock Island off to our right. We then went northwest between the north end of Brabant Island and Hoseason Island, and then past Low Island on the right. We are now southwest of Smith Island, headed for open water and Puentas Arenas, Chile.
Although I've unfinished work to do, I confess I've spent most of the afternoon on deck or in the ice tower, just sightseeing. I don't know if I will see Antarctica again, and I would be a fool to spend the last afternoon staring at a computer screen sorting data, and let what is certainly the most amazing scenery in this part of the world pass by. If it is any excuse, I wasn't the only one. A lot of people were taking a lot of pictures.
Here are a few of the highlights: As we left Palmer Station, the sun shown through broken overcast. For a few moments, an elegant white pyramidal peak appeared to be floating in the blue sky above the clouds, suspended there, begging to be climbed. As we neared the southeast corner of Anvers Island, there appeared to be land everywhere ahead, mountains and glaciers rising from the sea in all directions. It was only at the last moment that I saw a relatively narrow channel open up ahead, the southern end of the Gerlache Strait.
Throughout the afternoon, we were treated to wildlife almost continuously. I saw several of the now familiar Minke Whales, and a pod of two or three Humpbacks. Especially along the coasts of Anvers Island, Adelie Penguins in groups of eight or ten bounded along near the ship. They surfaced and dove in unison, flashing white and black in the blue water. New to me, and abundant, were the groups of Fur Seals. They are a distinctly different sort of beast than the pack ice seals. For one thing, they have four distinct flippers, two in front and two in back. Crabeaters, Weddells, and Leopards have lost their front flippers entirely, and their back ones are merged and closer to their bodies. My uneducated guess is that Fur Seals are a lot closer to their land roots than the pack ice seals. Fur Seals can walk around like dogs, more or less, on their four flippers, whereas the others move along like inchworms, or slither like snakes. When you think of a circus seal balancing a ball on its nose, that is the Fur Seal kind. They are also smaller than the pack ice seals I've seen. Fur seals are also a beautiful, rich brown color, and are
distinctly, well, furry looking. The ones we saw were usually in groups of three or four, bounding about on ice floes or swimming together. I want to learn more about seals, now that I've seen some.
The icebergs are distinctly different here also. They are dirty, not the blue and white ones of the Amundsen Sea. There are no large ice shelves in the Gerlache Straits. Bergs calve directly off land glaciers into the water. Gravel, rocks and sand have no time to melt off their bottoms before the glacier piece becomes a separately floating berg. The result is that icebergs look like snow plow piles melting in spring. The ice melts away but the gravel stays on the outer surface.
The sun set behind the peaks of Brabant Island on our left, but long after we were in the shade the tops of the mountains on the Danco coast were lit up in pure orange-yellow alpenglow. Just before the galley closed. I ran down and grabbed a quick snack so I could get back outside to watch.
When I got back on deck it was late twilight. A few stars were showing. I glanced around, saw something out of the corner of my eye. My mind rejected what my eyes saw, but then I turned around and stared. What I saw was real! There was actually a blinking white light on the shore. Blinking white lights as aids to navigation are not rare in most
parts of the world, but here there are very few. I know of no others in the Gerlache Strait. With the exception of Palmer Station, we have seen no evidence of other human beings since McMurdo Station. There are no lighthouses to be seen, snow or no snow. No settlements, planes or other ships appear. I saw just one satellite in six weeks. But here unmistakably was a slowly flashing white light.
I checked on the chart and asked the crew about it. The light is located on Guesalaga Island, east of Lecointe Island, which is itself off the east coast of Brabant Island. It was put there and is maintained by the Chileans, who have established Yelcho and Gabriel Gonzalez Videta bases in this area.
Although navigating in Gerlache Strait must require careful attention, I don't think there is anything more dangerous about the Guesalaga Island area than a lot of other nearby places. One person suggested that the light was placed there in parcticular because Guesalaga Island was named after Capitan de Navio Federico Guesalaga Toro, leader of the 1947 Chilean Antarctic Expedition. Another suggested that maintaining the light maintained a toehold of Chilean sovereignty in Antarctica, where nations have agreed to suspend territorial claims.
I believe that the Chileans put the light there to guide ships, and just to announce that there were human beings about, that passing ships were not alone in the world. That is the message it blinked to me.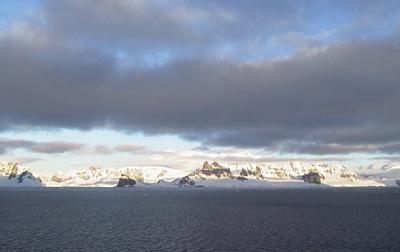 Part of the Danco Coast.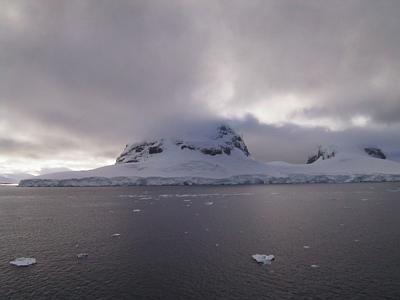 Along the east side of Anvers Island.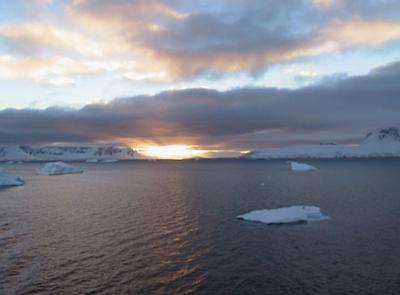 Sunset near Brabant Island.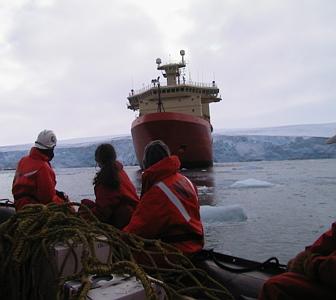 People and outgoing cargo returning to the Nathaniel B. Palmer at Palmer Station.

A pyramid floating in the sky.
---
Contact the TEA in the field at .
If you cannot connect through your browser, copy the TEA's e-mail address in the "To:" line of your favorite e-mail package.