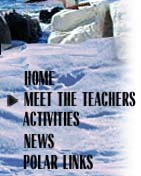 27 November, 2000
Well the time has finally arrived!!! I guess it is time to really get excited. I will be leaving today on one of the most memorable experiences of my lifetime. For me a trip to the South Pole rates right up there with getting married and being at the birth of my son. I really am having trouble finding the words to describe how I feel. I am both happy and sad. Happy to be finally going on an adventure that I have dreamed about since childhood, and sad that I will be missing a special season with family. One upside to being away is being able to communicate via e-mail and phone while I will be gone. This should make the separation easier, especially for my son and wife, who with out their love and support I wouldn't be going.
On to other business, The local paper, The Billings Gazette, did a nice story on my trip in today's edition, they also have a link on their webpage www.billingsgazette.com to TEA, and will be publishing images from my trip from time to time. The TV station that I work for(KTVQ our local CBS affiliate)will be doing a 5 minute package tonight at 5:30PM, about an hour after my flight leaves Billings. KTVQ will also have a link from www.ktvq.com to the TEA site. KTVQ is trying to set up live voice reports from the Ice on a weekly basis. I am hopeful that we can do that. The competing TV Station(KLUR our local NBC affiliate)did a nice package about my trip on the 14th of November and has a link to TEA on their website www.klur.com. With all the links and coverage I think that most folks will be able to follow my experience easily. Now all I have to do is get reliable e-mail!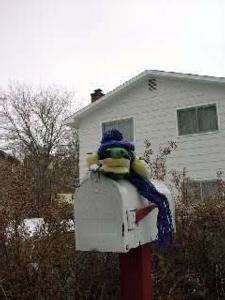 Well Albert the Alligator has finally arrived! I was beginning to worry that he would not make it from Jenifer Fralia's class in Louisiana. Albert is going to go with Waddlesworth and me on my trip to the South Pole. One of the great thing about TEA is that it allows a teacher in Montana to work with a class in Louisiana!
---
Contact the TEA in the field at .
If you cannot connect through your browser, copy the TEA's e-mail address in the "To:" line of your favorite e-mail package.