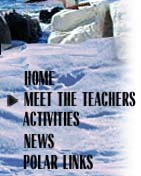 28 November, 2000
Hi everyone, I just wanted to let you know that Waddlesworth, Albert the Alligator, and little old me made it to Christchurch, NZ! Christchurch is 20 hours ahead of Billings so it is 3:30PM on the 29th here and 7:30PM on the 28th back in Billings. Christchurch is partly cloudy with rain showers and a high of 11c. Maybe you should find out what 11 degrees c is in our degree f temperature? It took 26 hours from the time I left Billings to the time that I got to Christchurch. I am very tired and I am looking forward to a good night sleep. Sleeping on the airplane between LA and Auckland was not very easy. I was lucky to have ear plugs which really helped. It seemed really strange that once the flight finally left LA, an hour late, at 11:30PM California time, they fed us dinner! I don't think I will ever figure out the eating schedule on a plane. The leg from LA to Auckland took 12 hours and 15 minutes and I got really tired of sitting. I am going to try on my ECW Gear tomorrow and I will try to send
some pictures. We are scheduled to try on our clothes at 2PM and then I will have to deside what I am going to pack as cargo and what I really need to keep with me on the plane. I know that I will want my camera and laptop and probably my stash of gummy worms (the sour glow-in-the-dark ones). I finally feel like I am really on my way to the Ice now that I am actually using the "Visitor email" at the USAP Center in Christchurch. This is a nice facility with 12 high speed computers to access e-mail and other web stuff. I will try to send some images tomorrow.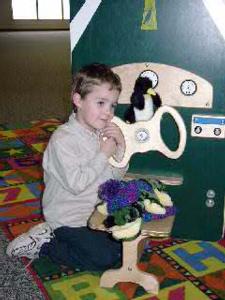 Getting ready to leave. My son Casey makes sure that Albert and Waddlesworth know what controls to use on the airplane.
---
Contact the TEA in the field at .
If you cannot connect through your browser, copy the TEA's e-mail address in the "To:" line of your favorite e-mail package.