1 December, 2000
We are set to head south tomorrow. I am hopeful that we won't go through the same turn-around that Von did earlier. The reason we are not able to go today is because we need to wait for the planes to come back from the ice. I guess that it makes sense that we need to have planes going both directions. I have enjoyed my time in Christchurch. I even got to go to the Canterbury Museum today and take a look at there great explorers hall. There was all sorts of great history from the early days of Antarctic Exploration. Makes me even want to be there sooner.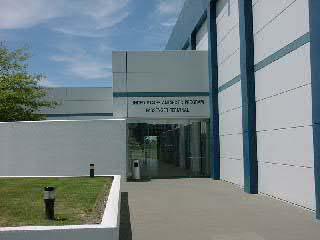 Well the question seems to be do we actually get to pass through these doors tomorrow? We are scheduled for departure about 11PM tomorrow. I will keep my fingers crossed.
---
Contact the TEA in the field at .
If you cannot connect through your browser, copy the TEA's e-mail address in the "To:" line of your favorite e-mail package.