21 August, 1998
August 21, 1998
Barrow Site****CRREL Plots****Farewell for Laura
Today Anna and I got up early to go meet with Tim Buckley, all around great guy and TEA person, who lives and teaches in Barrow. We got a glimpse of the awesome facilities they have at Barrow High School, home of the Whalers. Hopefully we will be able to get together again and get a more formal tour.
Anna, Javier and I then went to the Barrow ARCSS grid and trudged through the swampy grasses and lichen covered tundra. This site is a lot like the ones at Betty Pingo and West Dock. In fact the only relief from the expanse of flatness is an ancient beach ridge running through the middle of the grid. Apparently a long time ago, there was a lake here and over time it disappeared but did so in stages. After one stage it left all sorts of gravel, like a beach, and then receded all the way. The active layer is much deeper in gravelly regions because the gravel is not as good of an insulator as the mosses and grasses. In fact, the active layer can be over twice as deep in these types of areas. Another thing I noticed about the tundra here was the number of frost boils. One theory says that frost boils are areas of the tundra that occur when lighter silt is under a heavier layer of sediment. Due to the freezing and thawing in the soil, a convection cell is set up. The lighter soil is carried to the surface and appears as a brown patch of ground that looks as though it is boiling. Eventually, after some decades, the movement stops, and plants begin to take hold from the outer edges in, usually lichens and mosses are the first species, and so they appear quite different than the surrounding grass-covered tundra.
Anna and I also worked on some US Army CRREL (Cold Regions Research and Engineering Laboratories) Grids. The grids are about 25 feet squared with posts every 5 feet. Not as much walking but just as much probing. We did 16 of the 20 that we have to do. The grids were established in the 60's and Fritz is doing some follow up research in the 90's to see if things have changed in the active layer over a long period of time. We don't have the results yet, but I will let you know about it as soon as I can.
A little sadness in the group this evening as Laura has to leave tomorrow. We threw her a little goodbye bash and wished her well. She just got a job teaching at Hope Academy near Cincinnati. We all wish her the best. The time is getting short for the rest of us as well so I will sign off and get to work. Anna has that gleam in her eye that says we are about to embark on a grand adventure. Hurray!
JAVIER'S PIECE
Today we went by the DEW (Distant Early Warning) radar station and entered our isolated grid. It is located about a mile or two from main roads, which is farther that some of the grids at the Kuparuk basin. The distance from the road/civilization is important because the dust that is lifted from the ground by cars settles on the tundra and may have an effect on active layer depth. Some scientists from Colorado are trying to determine if there is a correlation between these two.
Today, I also began rooting around the tundra (so to speak) for some samples of lichen that I could use for my science project. I am not too knowledgeable in the field of lichen, but I do know that it is a relatively easy to grow organism. I require it in two stages: proliferative (cells dividing) and non-proliferative (cells not dividing, or a pseudo-hibernation state). I am trying to test for a protein modification called O-GlcNAc that may or may not be involved in the reproduction of cells - parcticularly, the uncontrollable reproduction of cells. I hope that the lichen will provide a good sampling for this sort of testing.
Anyway, I was in the old lake basin and there were very little lichen to speak of. Anna was at the frost boils and was able to look at a large variety of lichens; she was even able to sample one for me with some oocytes.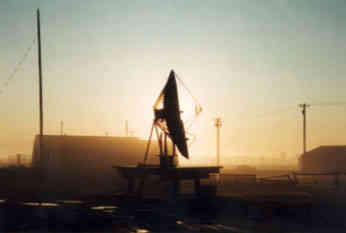 The sun also rises on the NARL (Naval Arctic Research Laboratory) facility (photo by Javier Lopez).
---
Contact the TEA in the field at .
If you cannot connect through your browser, copy the TEA's e-mail address in the "To:" line of your favorite e-mail package.