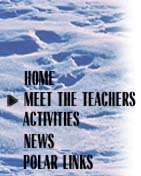 11 August, 2001
Krafta Party Saturday
11 August 2001
Valkommen!
Life on Board
The Swedish word for crayfish or crawfish is "krafta," with two dots over the first "a," and the Swedes love them. Tonight, we had the privilege of being part of a traditional Scandinavian dinner party that happens anytime in August during crayfish season. Of course, our crayfish weren't freshly caught from a beautiful Scandinavian lake, but they were still excellent. The tradition is to cook them with dill flavoring in boiling water until they are bright red like lobster. The main difference is that you have to go through a lot of work on these little buggers to get a bite to eat. They even eat the meat out of those little tiny claws. The mountain of cooked crayfish was incredible. They also served boiled shrimp, a variety of cheeses, fruits, and bread. But the star of the evening was crayfish. These dinners last for hours while mounds of empty shells pile up in bowls on the tables. Various tables around the room would spontaneously break into traditional crayfish songs that were picked up by the whole company in loud chorus. They even printed out a songbook for everyone to follow. Of course, it was in Swedish so I had some difficulty, but if I could figure out which song they were on, I could fake it. The one I did the best on was to the tune of "Twinkle, Twinkle, Little Star," with "Krafta, Krafta, something something dill," for the first line. Almost all of the crew was able to attend since we were not sampling or moving, so it made the evening especially nice for everyone on board. The most amusing thing about this party is that everyone wears a special crayfish bib, which the kitchen staff provides, and EVERYONE wears a funny hat. You could choose to make your own, or they would provide one. Using a baseball cap for a base, I made a tall volcano out of paper, colored with paints from my artist container mate, paper mache lava, tissue smoke (I looked for dry ice, but no one has any), palm trees on the bill, and birds on wires flying around. It was quite spectacular, but there were some even more fantastic. This is a tradition that I think we should start in the U.S.!
The Swedish Polar Research Secretariat (Office of Polar Research) is my official sponsor here in Sweden, and the National Science Foundation is my sponsor in the U.S. There are 6 members of the Secretariat on board, besides me, and one of them volunteered us to give the kitchen staff a day off tomorrow. That means we have to plan, cook, and clean up for breakfast, coffee break #1, lunch, coffee break #2, and dinner for 70 people. Yikes! I think the kitchen will never be the same after we are through and the kitchen staff might regret this decision. The person who volunteered us has lived in the U.S. and decided that we should have "American-style" blueberry pancakes for breakfast. What they call pancakes, we call crepes, and they usually serve them for dinner. In the cook's recipe book, there is nothing for the American kind of pancakes (and no Bisquick in the pantry!). So, I called my mom to get a recipe for buttermilk blueberry pancakes. I was told that this was most likely the first transmission in history of a blueberry pancake recipe to the North Pole by Iridium satellite phone. Thanks, Mom!
Where Are We Now?
Today it was cloudy and raining! All day! Actual rain, not sleet or slush or snow. Our coordinates at 9 am were 88o36' N by 0o35' E.
Scientists at Work
Because of the rain, not many people wanted to work out on the ice. The daily stuff continued; Main Mast maintenance, CTD/rosette cast, Go-Flow sample, lab work, but it was not a high activity day for science. And besides, we had to make our party hats.
EMAIL My satellite connection has been extremely sketchy lately. We must be in an Iridium shadow or something, because when I am able to connect, after several tries, the connection only lasts about 5 minutes before it is broken. That is why I haven't been able to send my journals every day because some days I can't connect at all. Of course, this means I haven't looked at any email either. Oh well, I will keep trying.
To Jennifer, my lovely stepdaughter on her wedding day: I love you and wish I could be there.
Vi ses! (See you later!)
From Deck 4 on the Icebreaker Oden, drifting far away, north of 88, Dena Rosenberger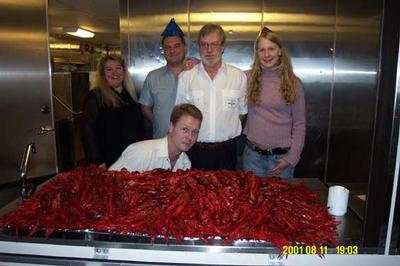 Our wonderful kitchen staff: Sylvie Hansson, Kenneth Engstedt, Lars Andersson, Johanna Johansson, and Martin Frick
---
Contact the TEA in the field at .
If you cannot connect through your browser, copy the TEA's e-mail address in the "To:" line of your favorite e-mail package.