29 November, 2003
Walk softly and carry a lot of wisdom.
Today I talked with our Mountaineer, Peter Braddock, He has a classically weathered face and a shock of wiry gray hair that frames sad eyes, yet look into those eyes and you see they hold a marvelous twinkle that suggests a bit of mischief and whimsy lurks within. Braddock, a quietly self assured man, accomplished in all aspects of mountain craft who, after working with him, led our graduate student Nate, to put a twist on an initialed bumper sticker you might have seen, from: W.W.J.D. to W.W.P.D. (What Would Peter Do?) His years down here in Antarctica (23) and his unerring politeness and respect for others opened many doors and experiences for us and we consider ourselves very fortunate to have him along.
Born in Wellington, New Zealand, the son of the Stores Manager for the Union Steamship Line, Peter and a group of friends spent their youth hiking and climbing in the surrounding countryside. While in high school, Peter took advantage of some local climbing courses so he could better explore the "high bits" (mountains) that were just outside of town. Yet, there were no organized climbing clubs, so Peter and his friends banded together to explore the mountains that surrounded them. They soon became so expert in the trails and terrains in their local, that they were often called upon to help in search and rescue (SAR) for missing campers. "We spent so much time in the mountains, that we probably knew them better than the adults at the time."
After high school, he attended the University of Canterbury School of Fine Arts, in Christchurch, New Zealand. Here he completed his degree in Art which he explained is a bit different from the 'States because you really are so immersed in the arts, both practical and art history, that you come out with what would be in the U.S. the equivalent of a masters degree in fine arts. Although Peter was lured toward architecture, he chose to go into teaching and did his block work in Picton, NZ. He stayed on there and with some fellow teachers, expanded a small outdoor education program into a full-blown department. He soon became head of outdoor education and the art department at Queen Charlotte School in Picton, until he retired in 1990.
While still teaching, Peter applied to the Kiwi Antarctic program in 1974 and thus began a life long love affair with the Frozen Continent.
The 1981-82 season had Peter hook up with A.J. (Bert) Rowell, a paleontologist who was working on brachiopods in Antarctica. Braddock would function as the team's mountaineer, getting the camp equipment together making sure the provisions were laid in and training the scientists in the necessary mountain skills needed to survive in such an unforgiving environment. Although not a requirement, a number of close calls have made the inclusion of an experienced mountaineer in all scientific parties an obvious decision. For Peter, this was the how he intended to spend his time in the Antarctic from now on, working along side world-class scientists helping them achieve their goals and getting a first class education along the way. As he explains it "Here you are with a group of teachers, and your the only student in the bunch, you couldn't have a better teacher/student ratio!"
I asked Peter if there was one trip that stands out and he was hard pressed to mention any, "They all had some aspect that made each special in their own way." When we were getting the gear together for our expedition, I noticed he packed a hand lens for himself. "I seem to have a pretty good eye for spotting things," he said, "and I like to know what they are." He went on to mention that he has a trace fossil and a small shell plate-like fossil named after him because he was first to spot them on previous trips. Also, given to his years of service here in Antarctica (over 23) he has a mountain named after him. A well deserved honor to a man who has devoted much of his life to this continent.
Peter Braddock intends to continue mountaineering here as long as he can pass the physical and finds the work satisfying. It has been parcticularly wonderful this season because his wife Terry, a structural geologist at Ohio State University, had her research bring her to Antarctica, which allowed them to spend time together when normally they would be apart.
When he isn't here at this "third home" he divides his time between their home in Ohio, and a farm they bought in New Zealand. Peter is also an accomplished bone carver, and he keeps his hands busy working on his first calling in the art world. I hope to see some of his work someday.
My time here in Antarctica, has been made much richer through Peter's guidance. One would think that after so many years he would have become bored or found the scenery commonplace. But as we traveled out from McMurdo on out shake down trip, I saw Peter pull out his camera and shoot scenes he must have seen a hundred times before. I would catch him gazing out over the landscape as if it was the first time he ever saw it, when we know that is not the case. When I asked him about this, he explained to me what I already come to appreciate about this great land, every day, every hour, every minute, the landscape changes in new and wondrous ways and your eyes, your brain, never tire of the endless beauty that is Antarctica.
Tomorrow, Dr. Phillip Currie, Dinosaur Expert.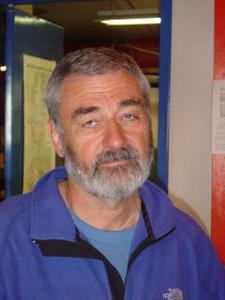 Peter Braddock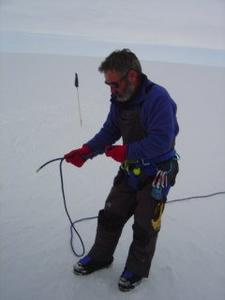 Peter demonstrates the figure "8" knot to tie into our safety harness.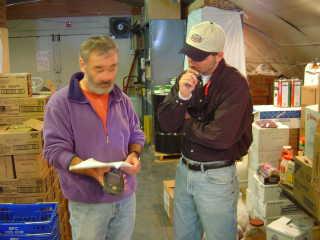 Peter explains how we use the bar-code scanner to the system designer.
---
Contact the TEA in the field at .
If you cannot connect through your browser, copy the TEA's e-mail address in the "To:" line of your favorite e-mail package.