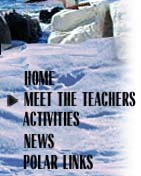 30 November, 2003
We interrupt this journal........
Yes, I know I promised an interview with Phillip Currie today however, since today is when Thanksgiving is celebrated in McMurdo, I took advantage of that, plus the fact that Richard Brandt, the person who got me involved in the TEA program to begin with, showed up in McMurdo. Richard was passing through on the way to his research project at Concordia Station, Dome C, so we decided to spent the better part of the day on a hike to the top of Castle Rock. Its sort of funny, we live about 20 miles apart back home but need to go halfway around the world to go for a hike together!
Castle Rock is a strange looking formation, it appears like a volcanic neck from a distance but is actuality what the geologists call a hyaloclastite, which is a fancy word meaning that it was made by basalt lava erupting under ice or water. The basalt was chemically altered by reacting with the water and became the reddish brown matrix imprisoning unaltered chunks of basalt (dark gray clasts). Hyaloclastites are forming today in Iceland where volcanoes erupt under ice caps.
We met at the Fire House at 10 am and signed out for the hike. In Antarctica, you must have taken a course about the dangers of hiking in Antarctica, file a hiking plan, list an emergency contact, note the time you plan to be back by and carry a VHF radio while you are gone. Having done that, we were off.
There were a few high clouds in the sky and at 25 degrees F. the weather in town was delightful, it wasn't until we got above the ridge to the east of McMurdo, that we hit the brunt of a 15 KT. wind. We quickly zipped up our windbreakers and even with the dropping temperature due to wind-chill, it was still a rather pleasant hike by Antarctic standards out to the rock (Still condition 3). Along the way we passed two emergency shelters which reminded us how fast the weather can change out here. These small red 8 X 12 fiberglass bubbles can protect you from the wind and cold and have a solar powered radio inside so you can call for assistance. We reached Castle Rock in no time and proceeded to climb the north face. I noted the fixed pins on the south side and hope to visit it on a return journey later in December. Our scramble up the north-side was a mixture of scree and hard rock. An orange matrix with basaltic clasts of various sizes captured within. The matrix weathered faster than the basalt chunks so it gave the rock the look of carrot raisin cake. Reaching the summit after an assist of a fixed rope traverse through an icy patch, we looked out upon McMurdo Sound and saw open water and an Iceberg not far off. Again, another stunning vista to record in my memory chips and that of my camera's. The wind was still pretty stiff up there, so we did not linger and after anchoring my camera to a rock, I took a group picture of the hikers that accompanied us. We scrambled back down part way and took a bit of nourishment in the lee of the rock, there we decided to go back the way we came instead of completing the loop, this would keep us from walking into the wind and get us back in time for Thanksgiving dinner! Back in town, I met up with the rest of our team and we headed for the 4:30 dinner seating. It was to say the least a spectacular feast and I did not have to suffer a camp meal of "dehi" in the field, so sorry students, I had a wonderful Thanksgiving dinner. The only thing missing was my family.
Tomorrow, Dr. Phillip Currie, I promise.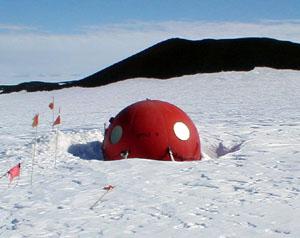 Survival hut on the way to Castle Rock

Castle Rock from McMurdo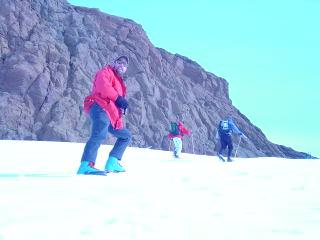 Last snow before Castle rock climb.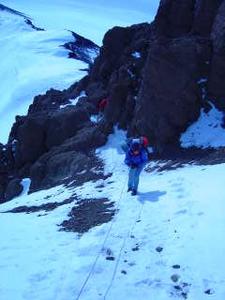 Fixed rope aid on Castle Rock ascent.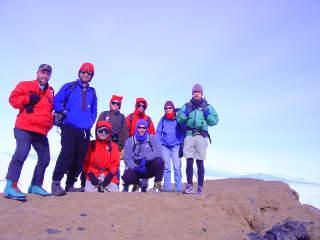 Climbers on Castle Rock: Left to right: Andy Sajor, Richard Brandt,Steve Warren, Steve Hudson,Von Waldon, Brad Halter, Delphine Six, Lance Roth.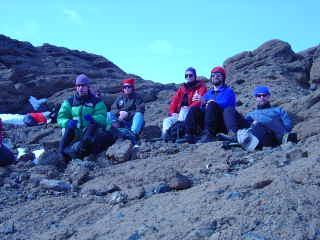 Lunch Photo: Lance Roth, Steve Hudson, Brad Halter, Richard Brandt, Von Walden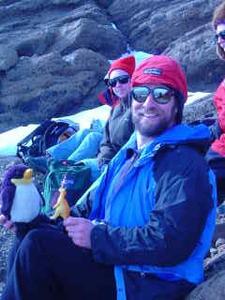 Richard's mascot Waddles, from Bloomingdale, NY, meets Dino, from Laurie Thomas's class in Oswego, NY --
---
Contact the TEA in the field at .
If you cannot connect through your browser, copy the TEA's e-mail address in the "To:" line of your favorite e-mail package.