6 December, 2003
The bad luck continues.
Full of high hopes, we prepared for the afternoon trip I talked about in yesterday's journal up to Mt. Kirkpatrick. Only a week late, Dr. Hammer had just figured out yet another contingency plan when we saw one of the helo's, the 212, limp back to camp. It was out on a mission to place radio repeaters on surrounding mountain peaks so the science field parties could remain in touch with the Beardmore camp via VHF radios. This is a requirement to aid in SAR (Search and Rescue) in case of emergencies as well to act as a means for the science parties to call back with an "All's Well" during the check in times.
The helicopter was making an approach to a mountain peak when it suddenly lost lift. It dropped about 20 feet onto the peak and crushed its skids. No one was injured and after an inspection it was determined that it was able to fly back to camp. However, it could not be flown again in regular service until massive repairs were made to the aircraft. This has effectively shut down operations here because of safety regulations, you see, even though there are two helicopters here, if one helo is down, the other cannot fly unless it is a SAR mission.
I was able to help the helicopter crew in a small way by taking pictures of the damaged areas of the machine and using the Iridium satellite phone, email the pictures back to McMurdo, there they could evaluate the damage and formulate a plan. What seemed a straight forward challenge, turned out to b a bit more difficult than first thought because the Iridium satellite passes are so low on the horizon here, that the file size had to be small enough to make an upload in one pass before the link would be dropped by one satellite and picked up by the other, a problem that I did not experience in McMurdo when I tested the system.
So we are here, with nothing to do except wait. We have to be ready to go at any minute; we just don't know when that minute will be coming. We tried to console ourselves with a great dinner of pork loin, curry sauce, veggies and potatoes but you can tell the group is down and very anxious get to work.
We retired to our tents with the winds going through cycles, rising to 25 KTS and then back to calm. This morning, it is around 22 KTS. so the camp personnel cannot move the portable hanger around the damaged helicopter. This is needed so when the repair parts arrive they can be installed. We have heard that there is a second helicopter coming out to camp so we can start science missions again but until we hear the beating of the blades we are not counting on anything.
On a positive note, sleeping conditions are fine. In fact I am very warm and my thermometer reports my tent temperature as high as 50 degrees F. when the sun is on the sides of the tent and it drops to about 38 to 40 when it is on the ends where the snow vestibules are. With my eye blinders on I have been getting a great "nights" sleep.
With a hopeful eye towards tomorrow,
Andy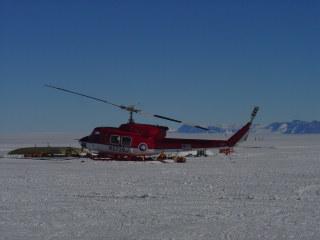 The damaged 212 back on its pad at the Beardmore camp.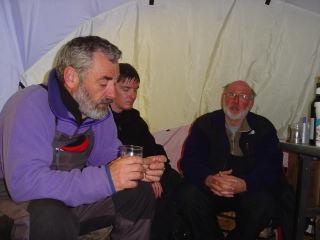 Braddock, Smith and Hammer discuss the events of the day.
---
Contact the TEA in the field at .
If you cannot connect through your browser, copy the TEA's e-mail address in the "To:" line of your favorite e-mail package.