15 October, 1999
Strike one! I almost made it today. I got up at 3:00AM NZDT to leave for the Passenger Terminal at the CDC. Well, "got up" might be a stretch. I don't think I slept much; too much to think about; too much excitement. At any rate my landlady was up as well, making breakfast for me since I was the only one staying with her who was scheduled to leave today. I got my bags together that I had packed the night before and got on the shuttle to the CDC along with several others going on the same flight. I must say, the diversity of people who choose to work on the ice is quite remarkable. Grizzled veterans of 20 or more seasons, young twentysomethings looking for adventure, wide-eyed graduate students looking find a future in scientific research. But more on that later. There were about 100 passengers scheduled for this ice flight. When we got to the CDC we retrieved out orange duffels bags which contained our ECW gear which we tried on Tuesday. You are limited to 75 pounds of gear plus a carry on bag and whatever you are wearing. I am going to leave some stuff stored at Christchurch while I am on the ice. Once we were ready, we went through the "bag drag". This is pretty much like check-in at a commercial airport. They check your passport and bags. They even ask the usual security questions like "Has anyone else packed your bags?" Yea, I wish. Then they weigh you and your bags. These weights are entered into a computer, as there are strict weight limits on the military aircraft we will be flying. We then got a Boarding Pass to wear around our necks like a big plastic dog tag. Our flight is scheduled to leave at 7:00AM so we had some time for breakfast. When we returned, we are given a safety talk, which was just like the one on an airline, except the flight attendant was an Air Force Sargent Cargo Master wearing camo fatigues.
We then loaded on to busses for the ride to the tarmac where our aircraft was waiting. We were scheduled to fly on a C141Starlifhter operated by the Air Force 103rd Squadron of the Air Mobility Command (AMC). It is a very large aircraft as you can see in the picture below. The people who had arrived before us were still standing on the tarmac. When we arrived we were told that there would be a "little delay" due to the adjusting of cargo. I had a chance to take pictures and talk to several interesting people. I was even interviewed by a reporter from the Air Force News Service who was doing a piece on the AMC's role in transporting people and cargo to and from Antarctica. After about half an hour, we were informed that they had discovered a mechanical problem on the aircraft in pre-flight inspection and we were going to be delayed. We were transported back to the Passenger Terminal but we could not leave. Most people slept (including myself), read or renewed old acquaintances from previous seasons. At about 9:00AM we got the bad news; the flight was cancelled and rescheduled for 8:00AM tomorrow. I was disappointed, but for others in our group that I talked to, this was there 4th or 5th failed attempt and getting to McMurdo.
The worst part of the whole deal is that they will leave all our baggage on the plane and all I have to take back the guesthouse is my hand carry bag. I guess I wasn't trying to impress anyone anyway. All I can say is that we will give it a go tomorrow. I hope I send my next journal from McMurdo or it will be strike two.
______________________________________________________
Get Your Private, Free Email at http://www.hotmail.com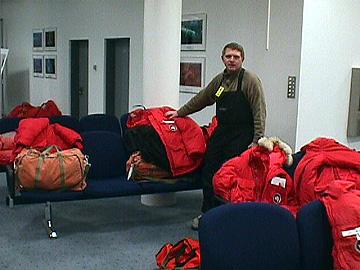 All my bags are packed, I'm ready to go.......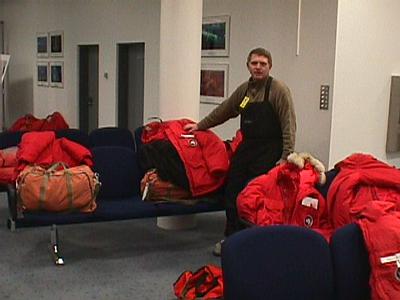 All my bags are packed, I'm ready to go.......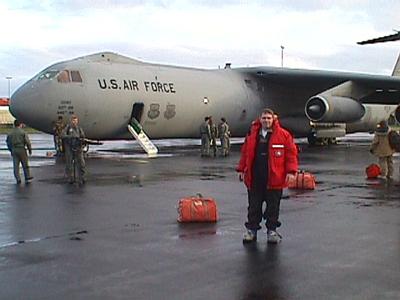 On the tarmac in front of the C141 aircraft which didn't leave the ground today.
---
Contact the TEA in the field at .
If you cannot connect through your browser, copy the TEA's e-mail address in the "To:" line of your favorite e-mail package.