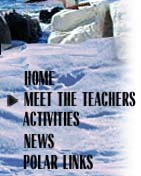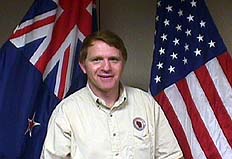 My name is Bruce Smith. I am from Appleton, Wisconsin. Appleton is in the northeastern part of Wisconsin just at the base of the "thumb" as you look at a map of the state. I am a Green Bay Packer fan. I have taught science for 25 years. I have taught mostly chemistry but also earth science, life science, physics, environmental science and math. I went to college at the University of Wisconsin - Stevens Point and got my masters degree at the University of Wisconsin - Oshkosh. I also teach meteorology and am a member of the American Meteorological Society. I serve as an Atmospheric Education Resource Agent (AERA) for our region. I try to help other teachers learn new ways to teach weather to their students. I love to fish and I hope to do some ice fishing in the Antarctic when I get there. I have traveled to many parts of the United States as well as Canada, England, Scotland and the Bahamas. I am married and have two children, Ellie and Matthew. Ellie is a sophomore in high school and Matt has graduated from high school. Both are quite talented, Ellie in several sports and Matt in music and writing. I am proud of them both. My wife, Pam, is also a teacher. She teaches high school English.

I think teaching is one of the most rewarding and exciting professions a person can undertake and I am proud to be a teacher. One of the reasons that teaching is such a great profession is that it gives me opportunities such as the Teacher Experiencing Antarctica (TEA) program. I really do not think I would have ever had this opportunity had I not chosen teaching as a profession. Through teaching I have had the opportunity to be part of the lives of many wonderful young people and watch them learn and grow. Many of my students have gone on to be teachers and scientists. I am proud of this as well.

I look forward to sharing my experiences "on the ice" with all of you during the 1999 Summer Antarctic season.



Bruce will work at McMurdo Station and at the drill site for the Cape Roberts Project.



The 1998 Cape Roberts drill site. Photograph courtesy of Betty Trummel, Husmann Elementary (TEA 1998/1999).


Investigating Past Climates through Palynology of the Cape Roberts Drill Cores
Dr. John H. Wrenn, Louisiana State University

The project I will be working on while in the Antarctic is one dealing with microfossils from sea-bottom drill cores. I will be working with a group from Louisiana State University at Baton Rouge (LSU) headed by the Principle Investigator (PI) Dr. John Wrenn. Dr. Wrenn is the head of the Center for Excellence in Palynology at LSU. Palynology is a discipline of science that studies microfossils such as pollen grains and other organic-walled microfossils. By studying these fossils, scientists can learn a great deal about the environment and climate at the time the deposits containing the fossils were laid down. Learning about past climates can help us understand how our climate is changing now and how it might change in the future. Evidence from these microfossils can also help us understand how the oceans have changed and how the continents have moved over geologic time.
In the Antarctic, I will be working out of the scientific station at McMurdo Station. I will be helping analyze drill cores taken at a drill platform on the Ross Ice Shelf at place called Cape Roberts. This summer, I will be going to southern Louisiana to work with Dr. Wrenn and his team to learn what I need to know to be part of this exciting scientific endeavor.



December 1999
| | | | | | | |
| --- | --- | --- | --- | --- | --- | --- |
| Su | Mo | Tu | We | Th | Fr | Sa |
| -- | -- | -- | 1 | 2 | 3 | 4 |
| 5 | 6 | 7 | 8 | 9 | 10 | 11 |
| 12 | 13 | 14 | 15 | 16 | 17 | 18 |
| 19 | 20 | 21 | 22 | 23 | 24 | 25 |
| 26 | 27 | 28 | 29 | 30 | 31 | -- |
November 1999
October 1999
May 1999
| | | | | | | |
| --- | --- | --- | --- | --- | --- | --- |
| Su | Mo | Tu | We | Th | Fr | Sa |
| -- | -- | -- | -- | -- | -- | 1 |
| 2 | 3 | 4 | 5 | 6 | 7 | 8 |
| 9 | 10 | 11 | 12 | 13 | 14 | 15 |
| 16 | 17 | 18 | 19 | 20 | 21 | 22 |
| 23 | 24 | 25 | 26 | 27 | 28 | 29 |
| 30 | 31 | -- | -- | -- | -- | -- |