27 October, 1999
Observation Hill, or Ob Hill, dominates the "skyline" of McMurdo Station. Ob Hill is a frequent destination for people who want to get a little exercise and some wonderful views of Mactown, McMurdo Sound and Mt. Erebus. Ob Hill is a small (750 feet) volcanic cinder cone located on Ross Island. Ross Island is a volcanic island formed from several volcanoes. Most are extinct except for Mt. Erebus. Soon after arriving in Mactown, Wojciech Majewski and I decided to take the obligatory hike to the top of Ob Hill. The sides of the hill are composed of vesicular basalt and assorted loose cinders. This made climbing a little tricky. The loose footing, snow, along with the lack of activity from the plane travel, made the trek to the top quite a chore. It was worth it. From the top we got our first views of Mount Erebus, Crater Hill, Williams Field (the landing strip on the permanent ice), and the green huts of the New Zealand main base, Scott Base. On top of the hill stands a large wooden cross in memory of Robert Falcon Scott and his four companions, Laurence Oates, Edgar Evans, Edward Wilson, and Henry Bowers. It was erected by members of Scott's last expedition on January 20, 1913 to honor these men who died on their way back from the South Pole. It bears an inscription, "To strive, to seek, to find, and not to yield". On at least two occasions the 9-foot tall cross has been blown over. The last time was during a storm in 1993. It was removed to Scott Base for repairs before being returned to its site.
Ob Hill gives an excellent "birds eye" view of Mactown. This was very helpful in getting my bearing when I first arrived. I still have a difficult time determining which directions are north and south, but I am learning some good landmarks. Despite this, it is very easy to get turned around here. Off in the distance, beyond the ice pier where ships will land when McMurdo Sounds melts, you can see Hut Point. This is the location of Scott's. Hut, used during Scott's attempts at the South Pole. Seals are often seen sunning themselves on the ice off Hut Point.
Looking up at Ob Hill from Mactown you can see, approximately half way up the hill, buildings of the old nuclear plant. This operated in McMurdo from 1961 until 1972. It was dismantled and returned to the United States in 1973- 1975. I plan a visit to McMurdo's present convention power plant. I will tell you all about it when I go.
The weather here continues to be very nice. Sunny with high temperatures about 14F. The wind was about 12-15 knots and out of the east. The lowest wind-chill was -20F. So far, I have not experienced any weather worse then what Wisconsin's has to offer in the winter. Not that I am wishing for it, but so far we have had none of the high winds and blowing snow I have heard so much about. Despite the fact that we have had no snow since I have been here, the crews here spend a lot of time moving the stuff. Snow is always blowing over roads and runways. This snow is very dry and drifts easily. Snow is constantly being moved from one place to another and the wind blows it back again.
Tomorrow looks like an exciting day, I'm going to sort trash! I have to go now. One of the members of our Cape Roberts team, Malcolm Laird, is presenting a lecture tonight with the intriguing title of: "The Break-Up of a Long-Term Relationship: The Cretaceous Divorce of New Zealand From Gondwana". I can't miss that! See you later.
(Note: Background information for this journal entry was obtained from two excellent web sites on the history of Ross Island. Check them out: http://www.theice.org/obhill.html and http://ast.leeds.ac.uk/haverah/spaseman/expross.shtml.)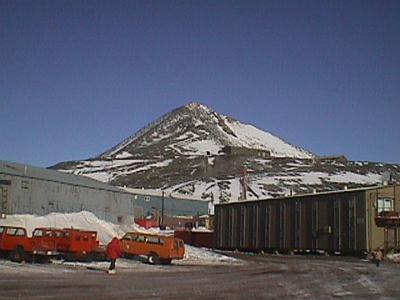 Observation Hill near McMurdo Station, Antarctica.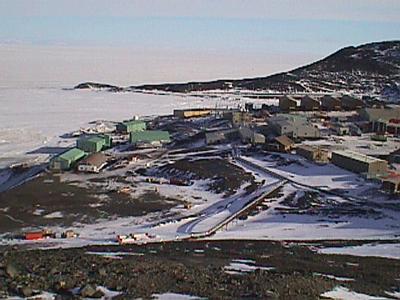 Mactown from the top of Ob Hill.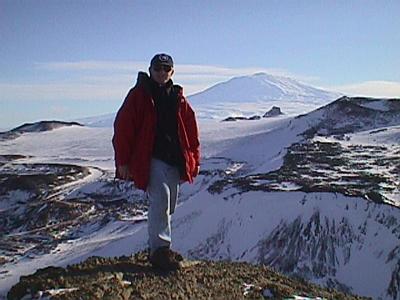 The top of Observation Hill with Mt. Erebus in the background.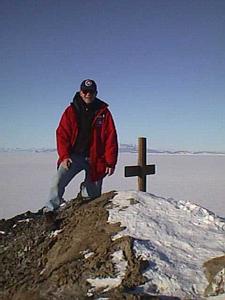 On top of Observation Hill next to the memorial cross.
---
Contact the TEA in the field at .
If you cannot connect through your browser, copy the TEA's e-mail address in the "To:" line of your favorite e-mail package.