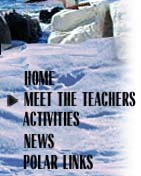 22 November, 1999
Scotsman Ernest Henry Shackleton was one of the great Antarctic explorers of the Heroic Era. "The Heroic Era" was a time early this century when explorers, notably from the British Empire, came to Antarctica to pursue science and notable "firsts," such as reaching the South Pole. Ernest Shackleton accompanied Robert Falcon Scott's expedition to Antarctica in 1901 on the ship Discovery. On that expedition, he became the continents' first aerial photographer by being carried above the ice in a balloon. Shackleton later organized an attempt to reach the South Pole. This expedition dubbed the British Antarctic Expedition left England in the ship Nimrod in 1907. He established a base camp for this expedition at Cape Royds, twenty-two miles north of Hut Point in McMurdo Sound. Shackleton and his men erected a prefabricated hut at Cape Royds in which they spent the winter of 1908. The following summer they made an attempt at the South Pole. They got within 97 miles of the pole, the furthest "southing" to date, but were forced to turn back because of a shortage of food. Although the Nimrod expedition did not accomplish its goal, it did have some great accomplishments to its credit. Among these are: the first use of a motor car in Antarctica, the first to reach the South Magnetic Pole, the first ascent of Mt. Erebus, the southern-most active volcano, and the printing of the first and only book published in Antarctica, Aurora Australis. Shackleton is probably most remembered for his epic "Endurance" expedition. In one of the greatest feats of survival, Shackleton and his men endured two frigid Antarctic winters and returned safely following a fantastic journey crossing the wild southern oceans. This feat is detailed in several books including "South" by Ernest Shackleton and "Endurance: An Epic of Polar Adventure" by Frank Arthur Worsley & A. F. Jellicoe. I highly recommend both. The hut at Cape Royds still stands and has been preserved by the Antarctic Heritage Trust (ANT). I had the rare opportunity to visit Shackleton's Hut. The hut is located near the penguin rookery at Cape Royds on Ross Island at the base of Mt. Erebus. It is in remarkable condition, preserved to some degree by the dry conditions and the efforts of the ANT. Only about 700 people visit this hut each year. There is a limit of 8 people allowed in the hut at a time and you must clean your shoes off with a brush to prevent dragging in snow and dirt. You cannot touch anything inside, but everything is surrealistically in place where it was left. Cans are on the shelves, socks hanging on lines to dry, clothing lying on bunks. It was almost as if Shackleton and his men had just stepped out for a moment. There is a bit of a musty smell inside and it takes a while for your eyes to adjust to the darkness. This place really feels like history! As I wander around this small hut, I think about the 15 men who lived, ate, slept, and studied during the cold, dark Antarctic winter within it's confines. It seems gloomy and fragile, but this was a relatively comfortable home for the men of the Nimrod expedition. I can only think of myself, living in a heated dorm at McMurdo Station, arriving at Cape Royds in a motorized Haggland and think what a wimp I am. These guys were tough. Why did they do it? Shackleton said it best " I go exploring because I like it and because it's my job. One goes once and then one gets the fever and can't stop going." Talking to people around town, it is obvious that Antarctic fever still has not been cured. Tomorrow we will visit Scott's Hut at Cape Evans. This is the hut that served as the base for Scott's ill-fated attempt to reach the South Pole Today's featured CRP Team Members are Stewart Bush of Victoria University of Wellington, New Zealand and John Smellie of the British Antarctic Survey. John, a Scot like Shackleton, is from Edinburgh. He works as a sand petrologist in the project determining, among other things, the composition and erosional features of sandstones found in the core. Stewart is a Thin Section/Petrology Technician. He cuts and grinds pieces of rock thin enough so light can pass through them. They can then be viewed through a microscope with polarized light to determine the mineralogy and structure of the rock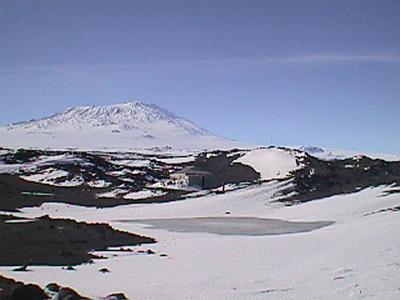 Shackleton's hut looks small and fragile huddled at the base of Mt. Erebus. The pond in front is called Pony Lake. It is where ponies used on the expeditions were tethered.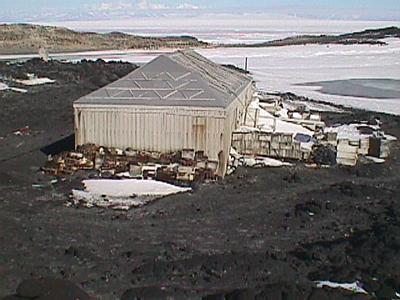 Shackleton's hut at Cape Royds. The boxes on the outside hold supplies and were used as added protection from the wind and cold.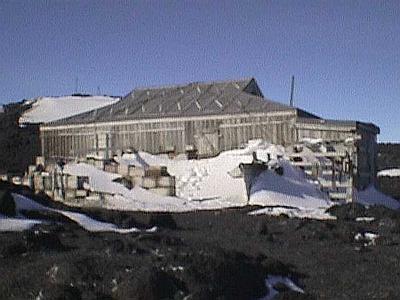 Shackleton's hut. Note the snow on the outside. At times, the inside of the hut has been filled with snow as well.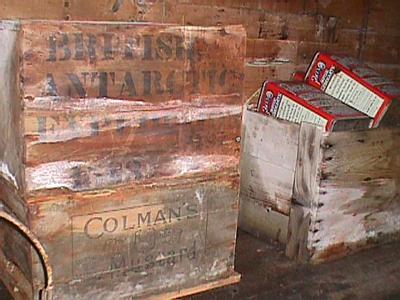 Storage boxes and cans inside Shackleton's hut.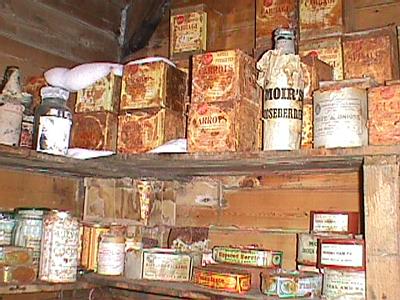 Food and other supplies were still on the shelves throughout the hut.

The bunks had fur sleeping bags and clothing laying on them.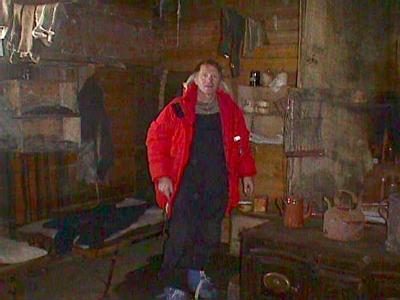 Standing near the stove hear the center of the hut.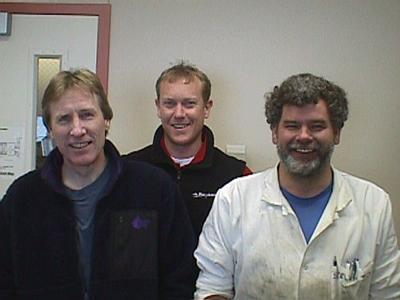 On the left is John Smellie. On the right is Stewart Bush. I don't know who the guy is in the center. I think it is somebody who wandered in during the Open House.
---
Contact the TEA in the field at .
If you cannot connect through your browser, copy the TEA's e-mail address in the "To:" line of your favorite e-mail package.