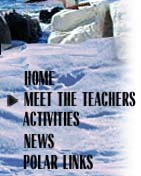 10 December, 1999
As I write this, I am in flight between Auckland, New Zealand and Los Angeles. Before I finish this last journal, I hope to report of my safe return to Appleton and my family. I just wanted to fill you in on the flight from McMurdo to Christchurch and the time I spent in New Zealand.
We checked in at 6AM (NZT) in McMurdo and were taken out to the ice runway. The Kiwi C-130 Hercules aircraft was being loaded with cargo when we got out there. After some delay, which I spent taking my last photos of Antarctica, we got loaded into the Herc. I had a much better seating arrangement this time than I did on the flight here in the C-141 Starlifter. There was cargo in the back of the plane and some cargo in the center of the hold so I did not have anyone in front of me knee-to-knee like I did southbound. I still did not have much legroom but at least what I had was mine. As I now sit in the aisle seat of this Boeing 747, I am amazed by how luxurious this is. I used to think these flights were crowded. Not any more. The northbound flight took seven and a half hours. This is about 2 hours longer then with the faster C-141, but about and hour or so less then the flight will be when they start using the LC-130 ski-equipped Hercs of the Air National Guard. The skis hanging from the plane cause additional drag and slow the air speed.
Upon arrival in Christchurch, we off loaded, went through New Zealand customs (remember, we did leave New Zealand) and then to the CDC to return the ECW gear. It was like giving up an old friend when I had to turn in the red parka and the mukluks. I was able to keep my Velcro nametags though. I was done with the CDC and out the door before I knew it. I seemed like such an abrupt end to the Antarctic part of my trip. Already it was like the stark white and black landscapes of the frozen continent were unreal. Parcticularly in contrast to spring-time in New Zealand. As we drove from the airport into Christchurch, I became aware of the wonderful aromas of flower blossoms and fresh cut grass. The green of the trees and shrubs were quite an eyeful after the unvarying white of the sea ice. Later in the day, I spent some time at the botanical gardens in town and allowed my nostrils to be filled with these intoxicated odors. Wonderful!
The two days I spent on the South Island of New Zealand where quite full. I spent a half a day in Lyttlelton, a town a short distance from Christchurch City Center which possesses a deep-water harbor. It is from here that many of the expeditions of the Heroic Era, including those of Scott and Shackleton, embarked for Antarctica. The USAP research vessel, Nathaniel B. Palmer, often berths here between legs of its voyages to the southern oceans.
I also spent a day in the little town of Akaroa. Both Lyttleton and Akaroa are on the Banks Peninsula, just south of Christchurch. The Banks Peninsula was formed from a series of volcanoes that occurred some 11 million years ago. The volcanoes are now exticnt and the old craters have been breached by the sea creating the sheltered harbors at Lyttelton and Akaroa. While at Akaroa, I got a special treat. I went out on a cruise boat into the harbor. New Zealand is the only place where the smallest dolphin, Hectors Dolphin, can be found. There are estimated to be only about 3-4000 of these animals. They are on the list of endangered species. Akaroa Harbor is one of the few places they can be observed. We were fortunate enough to see about ten of the wonderful little mammals. They usually occur as mated pairs and we saw several pairs leaping out of the water in front of and to the sides of the boat. Another rare animal also found in the waters around Akaroa is the Blue Penguin. This is the world's smallest penguin and is found all over New Zealand. We watched a Blue Penguin paddle next to the boat for quite some time. It was a real thrill. This makes a total of three penguin species I have seen on this trip. Two in Antarctica, Adelies and Emperors and the Blue Penguin in New Zealand.
After the two days in Christchurch, I flew to Auckland on the North Island of New Zealand. What a culture shock. Auckland is a bustling city of over 2 million people. Quite a contrast to a whole continent with less then 2000 people on it. There were traffic jams, long queues of people, McDonalds and even a Planet Hollywood. It was a bit depressing. There were some neat things in Auckland though. They have a wonderful harbor basin with some fantastic yachts. Auckland will be hosting the America's Cup sailboat race later the year and already there was a village, shops and displays set up for the big event. Auckland has some wonderful parks and green spaces. The diversity of plant life is amazing. In the same little forest plot you might see palm, ferns, spruces and broadleaf trees all growing together. I went to the New Zealand Maritime Museum and the Auckland Museum. At the Auckland Museum, I got to see displays of some of the types of forests that were in New Zealand and Antarctica prior to separation of Australia and New Zealand from Antarctica. It was a nice review of the paleo-climate history from the time the Cape Roberts Project was attempting to explore. After a day in Auckland, it was time to leave and here I am.
I left Auckland at 3:30PM on Thursday, December 9th (NZT). I will arrive in Los Angeles at 6:00AM on the morning of December 9th (PST), before I left! This, of course, is due to the crossing of the International Date Line going east. Remember when I flew west, I lost a day (October 11th). Well, now I am going to go through the same day (December 9th) twice. Weird! Kind of like the movie "Ground Hog Day".
After the flight from LAX to Chicago, I will arrive in Appleton at 4:00PM, December 9th, 1999. And so will end this exciting adventure. I am sure to relive the trip many times as I relate it to others in presentations of the next several months. I hope I get to talk to you. If I don't and you would like to ask me some questions about Antarctica or my trip, please e-mail me and I will try to give you an answer.
Again, thanks for sharing my adventure. Good Bye.
Bruce G. Smith
Appleton, Wisconsin
PS. My plane landed in Appleton at 4:00PM, Thursday, December 9th (CDT), or 11:00AM, Friday, December 10th, 1999 (NZT).
---
Contact the TEA in the field at .
If you cannot connect through your browser, copy the TEA's e-mail address in the "To:" line of your favorite e-mail package.