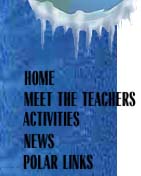 Antarctic and Arctic Learning Trunks
For TEA parcticipants and TEA Associates
Funded by the Toshiba America Foundation
Have you ever wanted to study the polar regions in your classroom, but you've felt that you don't have any or enough materials to do so? Well, worry no more. These learning trunks are designed with you in mind. Each of the learning trunks includes: books, videos, maps, posters, and other hands-on manipulatives for the study of the Antarctic or the Arctic.



Reserving Trunks

To reserve a trunk, you must agree to the following:
You and your students must follow one of the teachers in the field--either Arctic or Antarctic--while using the trunk. This can be in the form of copying off his/her daily pictures and journals and presenting them to the class. Or it may mean that you use your internet access to e-mail the teacher-scientist with questions or comments regarding his/her trip.

2. You must pay the cost of shipping TO and FROM your school. The Arctic trunks cost anywhere from $40-$50 ONE-WAY (weight = 73 lbs). The Antarctic trunks cost anywhere from $52-$60 ONE-WAY (weight = 93 lbs). You must insure the trunk for $1500 (which is included in the estimates above).

To reserve a trunk, please email one of the following people:


Antarctic Trunks



Rolf Tremblay
Gig Harbor, WA
tremblayr@peninsula.wednet.edu
Goodman Middle School
(253) 858-5500

Kolene Krysl
Omaha, NE
kkrysl@cox
Oakdale Elementary
(402) 390-6460



Arctic Trunks



Susan Klinkhammer
Corvallis, OR
susan.klinkhammer@corvallis.k12.or.us
Linus Pauling Middle School
(541) 757-3986

Betty Carvellas
bcarvellas@ejhs.k12.vt.us
Essex High School
(802) 879-7121


Books
A for Antarctica
Antarctica: An Encyclopedia
Antarctica by Cowcher
Antarctica: Lonely Planet Series
Antarctica Press Clips (Nat'l Science Foundation)
Antarctic Science: Global Concerns
Antarctica: The Last Continent
Arctic & Antarctic: Eyewitness Books
Black Whiteness: Admiral Byrd Alone in the Antarctic - Robert Burleigh
Braving the Frozen Frontier: Women Working in Antarctica (only in one trunk)
Current: Polar Seas (The Journal of Marine Education)
Destination Antarctica
Evan-Moor Geography: Antarctica
Explore Antarctica
Martian Fossils On Earth?: The Story of Meteorite ALH 84001
Mitsuaki Iwago's Penguins
Mrs. Chippy1s Last Expedition: The Remarkable Journey of Shackleton's Polar-Bound Cat
North Pole, South Pole: Journeys to the Ends of the Earth
Penguins At Home: Gentoos
Penguins of the World
Pole to Pole
Science on Ice: An Antarctic Journal
Science on Ice: Research in the Antarctic
Scott's Last Expedition: The Journals
South, the Last Antarctic Expedtion
Summer Ice: Life Along the Antarctic
Super Cool Science: South Pole Stations: Past, Present, and Future
The Cruelest Place on Earth: Stories from Antarctica
The Emperor's Egg
The Ozone Dilemma
Troubling a Star by L'Engle
Improve science literacy
Change general public attitudes about science
Videotapes
Change science education in the classroom
Antarctica: An Adventure of a Different Nature
Emperors of Antarctica
Heart of Antarctica: Journey to the Ice
Jacques Cousteau: Voyage to the Edge of the World
Living At the Bottom of the World
Nat'l Geographic Antarctica: Life in the Freezer
Newton's Apple: Monstrous Makeup, Mirrors, Ozone, and Sweet Sugars (Ozone - #1004)
Newton's Apple: Odyssey to Antarctica (#1006)
Shackleton: Escape From Antarctica
Under the Ice: Antarctica
Working in Antarctica: McMurdo, South Pole, Field Camps (Nat'l Science Foundation)
Teacher Guides
Iditarod Curriculum: The Last Great Race to Nome
Outdoor Survival Training Instructor and Student Manual (please copy for classroom use)
Polar Connections poster and teacher guide
TEA Activity Book (taken from TEA web site, update if you have more)
Arctic Trunk Details folder (with sign-in sheet, Arctic Resources sheet, and other important info)

Multimedia
40 PC-formatted computer disks in file box for individual presentations
28 Mac-formatted computer disks in file box for individual present

Pamphlets
Antarctica Map (Australian Antarctic Program)
Cool Science: Australian Science in the Antarctic
TEA Brochure (Teachers Experiencing Antarctica and the Arctic)
The United States Antarctic Program (Nat'l Science Foundation)

Maps
Antarctica topo map

Other Resources
30 Modeling clays for topography studies
50 Zipper thermometers for weather studies/wind chill studies
Antarctica slide presentation
Overhead transparencies for coring activity
Questions? Contact the TEA you received this trunk from or contact Elissa Elliott at: bruingirl91@hotmail.com
Books
Alaska Native Arts and Crafts - Alaska Geographic
Alaska's Oil/Gas & Minerals Industry - Alaska Geographic
A Naturalist's Guide to the Arctic
Arctic & Antarctic: Eyewitness Books
Arctic Investigations: Exploring the Frozen Ocean (Ocean Pilot Series)
Arctic Research of the United States, Vol. 13
Arctic Son - Jean Craighead George
Arctic Tundra: Habitats
Arctic Whales: Belugas, Bowheads, and Narwhals
Arctic Winter, Arctic Summer
Buried in Ice: The Mystery of a Lost Arctic Expedition
Current: Polar Seas (The Journal of Marine Education)
Discovering Alaska's Salmon: A Children's Activity Book
DK LEGO Readers: Mission to the Arctic
Dr. Kane of the Arctic Seas - Pierre Berton
Fan's Guide to the Iditarod
Go Home, River - James Magdanz
Julie of the Wolves - Jean Craighead George
Kiana's Iditarod - Shelley Gill
North Pole, South Pole: Journeys to the Ends of the Earth
Over the Top of the World: Explorer Will Steger's Trek Across the Arctic
Parry of the Arctic (Adventures in Canadian History Series)
Polar Bears (Zoobooks)
Polar Exploration: Journeys to the Arctic and Antarctic
Pole to Pole
Restoring Alaska: Legacy of an Oil Spill - Alaska Geographic
The Alaska Almanac: Facts About Alaska
The Arctic: Endangered People and Places
The Arctic: Lonely Planet Series
The Arctic Sky: Inuit Astronomy, Star Lore, and Legend
The Call of the Wild - Jack London
The Future of An Arctic Resource
The Magic School Bus in the Arctic: A Book About Heat
This Place is Cold
To the Top of the World: Adventures with Arctic Wolves
Women Explorers in Polar Regions
Video Tapes
Alaska's Arctic Wildlife
Alaska's Great Race: The Susan Butcher Story
Eyewitness: Arctic & Antarctica
Nat'l Geographic Arctic Kingdom: Life At the Edge
Newton's Apple: An Arctic Expedition with Famed Explorer Will Steger (#1202)
Newton's Apple: Up, Down, Around, and Zig-Zag (Permafrost - #1106)
Teachers Guides
Iditarod Curriculum: The Last Great Race to Nome
Outdoor Survival Training Instructor and Student Manual (please copy for classroom use)
Polar Connections poster and teacher guide
TEA Activity Book (taken from TEA web site, update if you have more)
Arctic Trunk Details folder (with sign-in sheet, Arctic Resources sheet, and other important info)
Audiocassette
Woodsong by Gary Paulsen

Pamphlets or Packets
Alaska Birds: An Introduction to Familiar Species
Alaska's Marine Resources (Vol. VII, No. 3, Oct. 1992)
Arctic Social Sciences: Opportunities in Arctic Research
Cold Can Kill: Hypothermia
Cold Hurts: Frostbite, Frostnip, and Immersion Foot
Cool Science: Australian Science in the Antarctic
Dressing for Cold
TEA Brochure (Teachers Experiencing Antarctica and the Arctic)

Games

Salmon Migration Game
Maps

North America map/Arctic Circle
Multimedia

40 PC-formatted computer disks in file box for individual presentations
28 Mac-formatted computer disks in file box for individual presentations
Miscellaneous
50 zipper thermometers for weather/wind chill studies
Questions? Contact the TEA you received this trunk from or contact Elissa Elliott at: bruingirl91@hotmail.com
Back to:
TEA Information Front Page