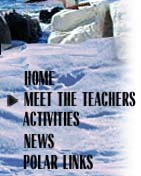 2 October, 1996
The traveling part of the program began several days ago. It's 4:00 am Thursday, New Zealand time, but my body is still on EST, which is noon on Wednesday. I left the airport in Providence RI today, headed for Los Angeles and then on to NZ. The plan was for the research team, S022, to meet at the terminal in LAX and travel together from that point. I had only met three of the group, Bill Baker, Jim McClintock, and Chuck Amsler previously. Bill and Jim are the Principle Investigators for the study. This is the fourth time to the ice for Bill and Chuck and the seventh for Jim. Bill teachers at Florida Tech., Jim and Chuck are at the University of Alabama.
Pat Bryan and Jenni Kreider were at the terminal when I arrived. They are engaged to be married and work with Jim at UAB. They have just returned from a one-year research assignment in Hong Kong. Chris Moeller, the youngest of the team, was also waiting. He is an accomplished ice diver who will be responsible for the majority of the underwater sample collecting. He was carrying 100 roles of film with him so I think he's also interested in photography. A second diver, Jim Mastrow is already on the ice making preparations for sample collections. Jim is a master diver who previously coordinated all underwater activities at the McMurdo Research Station. I met the last member of the group, Gamini Jayatilake, at the terminal in Auckland, New Zealand. His flight was late arriving in LAX and as yet his baggage hadn't caught up with him. He is from Sri Lanka, a small island off the coast of India, as far as we know he will be the first Sri Lankan on Antarctica.
After flying 22 hours we arrived in NZ at 9:00 am on Wednesday, I don't know what happened to Tuesday, but I think it got lost somewhere around the International Dateline. After settling into our hotel, we spent the rest of the day exploring the city of Christchurch.
The plan for tomorrow is to meet at the Clothing Distribution Center, CDC, where we will be issued thirty-five pounds of cold weather clothing in preparation for our departure to Antarctica. We're scheduled to leave for the continent on the fourth flight of the season. The first flight into McMurdo this season was Tuesday; if the weather cooperates we should be on the ice by Friday.
---
Contact the TEA in the field at .
If you cannot connect through your browser, copy the TEA's e-mail address in the "To:" line of your favorite e-mail package.