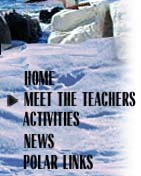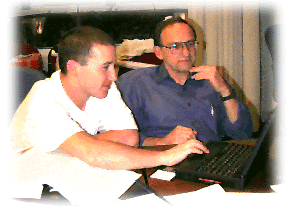 See Dom's Expedition Pictures
Visit Dom's NECAnet Site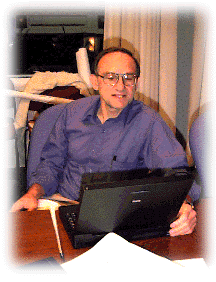 I am a physics teacher at Norwich Free Academy, in Norwich, Connecticut. I have the opportunity to join a team of research scientists, led by Bill Baker from Florida Institute of Technology and Jim McClintock from the University of Alabama, at McMurdo Station.

The research we are undertaking focuses on certain Antarctic invertebrates that resist predation, microbial infection, and fouling. It is hypothesized that these organisms produce chemicals that account for their defenses. Unlike you and I, the organisms that are being studied can not defend themselves by fleeing or fighting. In spite of a lack of obvious defenses, the organisms have evolved and survived for millions of years. In the course of the next eight weeks, divers will collect organisms that live 30 meters below the ice. The organisms will be freeze dried and placed in solvents. The chemicals that dissolve in the solvent will be studied to determine if any will resist bacterial growth. The most valuable chemicals will be those that have the potential to treat illness.

Many frequently prescribed medicines are naturally existing chemicals obtained from terrestrial plants or micro-organisms that are grown on an industrial scale. Since the diversity of plants and invertebrates in the oceans is so much greater than those found on land, its reasonable to expect that many useful natural chemicals will be found in the marine environment.

When not working with my students, I enjoy skiing, jogging, and working with computers. I'm leaving my wife, four children, and two grandchildren to fend for themselves for the fall and early winter.



The Chemical Ecology of Shallow-Water Antarctic Marine Invertebrates
Principal Investigator: James B McClintock, University of Alabama at Birmingham
The research team I joined for my Antarctic experience studies marine invertebrates such as sponges. The researchers are interested in chemical ecology, which is the study of chemical interactions between organisms and their environment. Organisms produce chemicals for a variety of purposes. Some bioactive compounds (those having an effect on a living organism) are produced to attract mates. Many others are used for self-defense.

The organisms we looked at live on the sea floor as adults, but their early life history is dramatically different. They start out as eggs with large yolks, and they drift with the currents. Their embryos develop into larvae (immature organisms that are very different than the adult form and are adapted to a different environment). The larvae passively float along for two to six months as they develop. Only when the organisms assume adult form do they become attached to the seabed. The researchers are looking for the chemical defenses these organisms use to protect themselves during each stage of their lives.

Colored sponges use their pigments for defense. The research team is investigating the role of these pigments in the sponges and in other colored invertebrates. To do this, we need to know both the physical structure of the chemical compound and the information it carries to other organisms. We start with an extract from the organism that contains many different components. The bioactive chemicals we are interested in must be isolated and purified during multiple cycles of laboratory work. The increasingly pure compounds are tested to see how they affect other organisms.

Through this work, we will gain a better understanding of the role bioactive compounds play in Antarctic marine ecology. Research into bioactive chemicals also has a very practical side: the manufacture of new medicines. Many pharmaceuticals in use today are derived from natural origins, and the oceans may hold many more as yet undiscovered compounds that will be of great value to us.



McMurdo Station. Much of Dom Tedeschi's research will be conducted in Crary Laboratory in the center of the photopgraph. Photograph by S. Shipp, Rice University.


Dom Tedeschi will be working with a research team at McMurdo Station and may have the opportunity to travel to the South Pole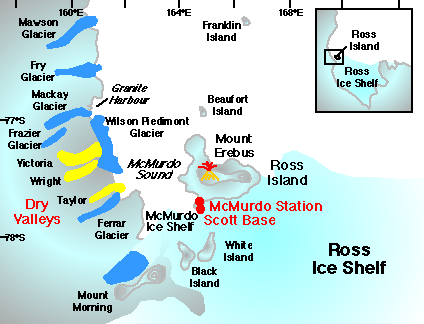 Detail of the McMurdo region.


September 1997
| | | | | | | |
| --- | --- | --- | --- | --- | --- | --- |
| Su | Mo | Tu | We | Th | Fr | Sa |
| -- | 1 | 2 | 3 | 4 | 5 | 6 |
| 7 | 8 | 9 | 10 | 11 | 12 | 13 |
| 14 | 15 | 16 | 17 | 18 | 19 | 20 |
| 21 | 22 | 23 | 24 | 25 | 26 | 27 |
| 28 | 29 | 30 | -- | -- | -- | -- |
August 1997
| | | | | | | |
| --- | --- | --- | --- | --- | --- | --- |
| Su | Mo | Tu | We | Th | Fr | Sa |
| -- | -- | -- | -- | -- | 1 | 2 |
| 3 | 4 | 5 | 6 | 7 | 8 | 9 |
| 10 | 11 | 12 | 13 | 14 | 15 | 16 |
| 17 | 18 | 19 | 20 | 21 | 22 | 23 |
| 24 | 25 | 26 | 27 | 28 | 29 | 30 |
| 31 | -- | -- | -- | -- | -- | -- |
December 1996
November 1996
October 1996