6 November, 2000
Heading South
After much anticipation and preparation my adventure has begun. But getting to Antarctica is not a simple task. My journey started at Seattle-Tacoma Airport, saying goodbye to my family and greeting Bob Hawley one of the team members. Bob is a graduate student in geophysics at the University of Washington. His advisor is Ed Waddington, a principle investigator (PI) for the project. Our flight took us to Los Angeles where we met the other PI and team member, Gary Clow. Gary is a geophysicist for the U.S. Geological Survey in Denver.
Gary, Bob, and I took a 12-hour flight across the Pacific Ocean to Auckland, New Zealand. Though we left on Friday night, because we crossed the International Date Line it was Sunday morning when we arrived. We also crossed the Equator so the season switched from fall to spring, as they are opposite in the Southern Hemisphere.
Another flight took us to Christchurch on New Zealand's South Island. There we were met by a representative from Raytheon Polar Services, the contractor that supports U.S. research in Antarctica. He provided us with information about our stay in Christchurch and our flight to Antarctica, scheduled for Wednesday.
The 8,000 miles from Seattle to Christchurch seemed long but they were uneventful and relatively comfortable. I expect the next portion of the journey will be quite different.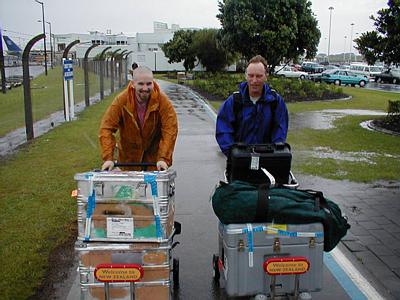 Bob Hawley and Gary Clow are hauling our gear between terminals at the airport in Auckland, New Zealand. It was pouring down rain!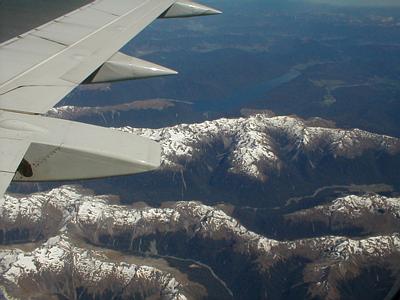 Rugged mountains divide New Zealand's South Island into a wetter western section and a drier eastern portion, a bit like Washington State.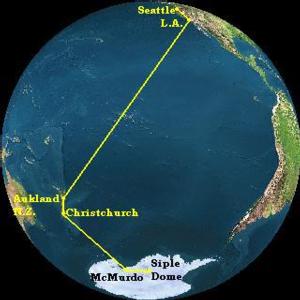 The next leg of the trip will take us to McMurdo Station. Once there, we will have a few days for training and preparation of equipment. Finally, we will fly on to Siple Dome, a field camp on the West Antarctic Ice Sheet.
---
Contact the TEA in the field at .
If you cannot connect through your browser, copy the TEA's e-mail address in the "To:" line of your favorite e-mail package.