4 December, 2000
A Day in the Life
2:22 am - Wake up to the wind making every tent panel flap furiously. It is light out. But it is always light out. Check my watch and turn over to go back to sleep.
5:09 am - Awake to the wind again. Check my watch. Back to sleep.
6:35 am - Time to get up. Out of the sleeping bag. Off with my cotton t-shirt and shorts. On with long underwear, fleece pants, nylon bibs, fleece vest, fleece jacket, socks, Sorel boots, shell jacket, and sunglasses. It is -10C (14F) outside. The first cloudy day in almost a week.
6:50 am - Stop by the yellow flag (outdoor restroom).
6:55 am - Stop in the beaker hut (science Jamesway). Gary is up. Bob is already heading out to 10km south for a logging session.
7:15 am - Breakfast in the big Jamesway. It is Sunday, the camp staff's day off, so it is empty. No scheduled meals today. There are lots of leftovers and other things to eat.
8:00 am - Remove the temperature logger from my tent. The station's weather system has not been working for a few days so I set up one of our project's loggers to record temperatures. I need to install it today at 32km south.
8:30 am - Downloading and graphing temperature data in the beaker hut. Gary heads off to log at the H-hole. Bob returns.
9:30 am - Prepare for the trip to the J-hole site. Gather snow saw, pry bar, shovels, duct tape, measuring tape, two Hobo temperature loggers, VHF radio, and lots of clothes. Make a sandwich and grab two Snickers bars. We won't be back for lunch.
10:00 am - Discuss trip with Sarah Das and Andy Kurtz. The three of us are going to 32km south. Sarah is moving her automated weather station and some other instruments.
10:45 am - Fill gas tank on the snowmobile.
11:00 am - Help Sarah and Andy load weather station and equipment on two sleds.
11:50 am - Put on heavy parka, hat goggles, ear protection, neck gaiter, and gloves.
12:00 pm - Head south on the snowmobile. The low clouds make it impossible to see the horizon. Sarah starts to navigate using her GPS unit. Other than the three of us, everything is white. Sky and ground, there is no difference. It is an eerie and unsettling feeling.
12:10 pm - We find the flag line. When you reach one flag, usually you can just make out the next one. Sometimes they take a bit longer to locate. It feels good to have three of us groping through the whiteness.
12:30 pm - Pass the H-hole at 10km south where Gary is conducting a temperature log. He can't be disturbed so we give the site a wide berth.
1:00 pm - Slow down under 20 kph (12mph). The surface is rougher farther south. There are more satrugi and with no visibility you can't see the bumps coming.
1:30 pm - Arrive at the J-hole site at 32km south. Choose a place for my snow pit while Sarah picks a site for the weather station. Eat some lunch.
1:40 pm - Dig a 2.5-meter (8ft) deep snow pit. Take off a couple layers of clothing.
2:45 pm - Install two Hobo temperature loggers 2 meters deep in the snow pit.
3:30 pm - Eat the rest of lunch. Watch Sarah and Andy work on the weather station. Take some pictures.
3:45 pm - Watch Sarah sketch the stratigraphy of the snow in the pit. She found a couple melt layers from about eight years ago. These form on those rare occasions when the temperature rises above freezing. Sarah also studies past climates by finding melt layers in ice cores such as the one taken from the main drill site at Siple Dome.
4:00 pm - Record temperatures as Sarah measures them in each layer of the snow pit. The surface snow was -6.5C (11F) while at two meters down it was -22.3C (-5F).
4:30 pm - Fill in the snow pit. Mark the site with a flag.
5:30 pm - Head north on the snowmobile following the flag line.
7:00 pm - Return to camp. Fill the snowmobile gas tank and cover it for the night.
7:15 pm - Unload gear. Head to the galley. Eat left over burritos and enchiladas.
7:45 pm - Take a shower. The shower is in the dining room, which becomes sort of a lounge after dinner. Tonight the camp staff is crowded into the communications room watching "The Bridge on the River Kwai." So this is a good time to grab a quick shower without a crowd around. A two-minute shower ever four days is typical. Of course, you end up wearing pretty much the same clothes everyday.
8:15 pm - Back in the beaker hut downloading images and thinking about today's journal. Gary and Bob return from the main drill site where they reinstalled the logging equipment, having moved it from the H-hole at 10km south.
9:00 pm - Eat berry pie with some Starbucks decaf. Listen to Dvorak and write this journal.
11:30 pm - Everyone has gone to bed. I should wrap it up. Tomorrow will be another fun and fascinating day.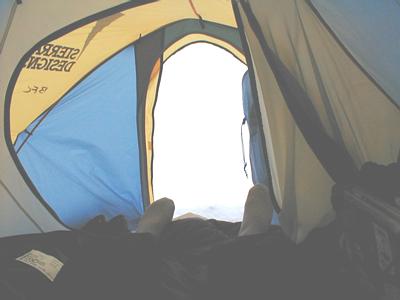 A. You never know what you will find when you unzip the door of the tent in the morning. Today it was cloudy with a moderate breeze.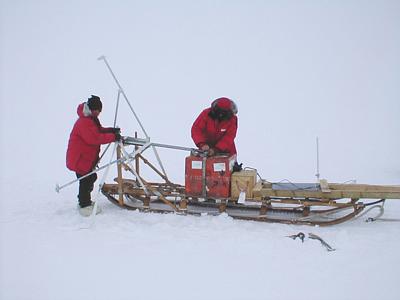 B. Andy and I are loading part of the weather station on a Nansen sled for the trip south.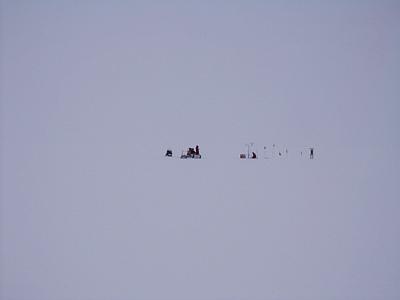 C. Sarah and Andy are erecting the weather station at 32km north. You can see how poor the visibility was, making travel a challenge.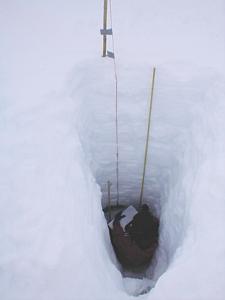 D. Sarah is studying the stratigraphy in the snow pit.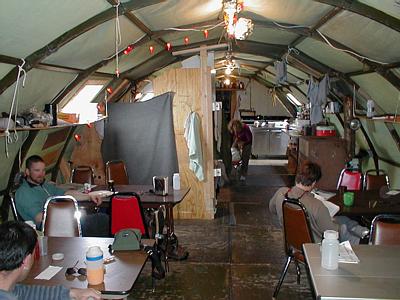 E. This is the dining area with the kitchen in the back. On the left, Bob is relaxing after a late dinner. Gary is in the shower behind the gray blanket.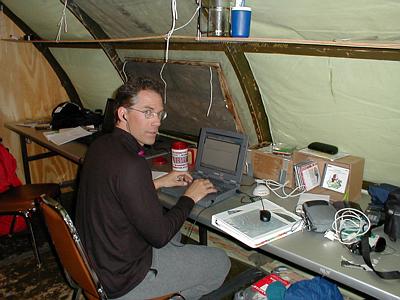 F. Here I am writing this journal in the beaker hut.
---
Contact the TEA in the field at .
If you cannot connect through your browser, copy the TEA's e-mail address in the "To:" line of your favorite e-mail package.