22 November, 1998
Sunday, November 22nd, 1998
Hi! It was great to sleep in today, and overall it was a lazy day for once. I really needed that after the hectic pace of the last two days. I took my time waking up, showering and getting over to Sunday brunch. Lots of people were watching the college football games on television. Remember…it's only Saturday back home in the United States! After brunch I stopped in to say hello to some friends…they were just starting to watch a good movie, "Rain Man." I hadn't seen one movie since leaving home 5 weeks ago, so I decided to relax and watch it with them.
After the movie I went over to Crary Lab. We work seven days a week here, although I took it easy today. Fabio and I drilled less samples today than usual. Some of our samples had to be taken in the small plastic boxes because of the sandy core. Next I went upstairs to the computer lab and YIKES…I had 40 new e-mail messages to tend to! I got started on those and worked until dinner.
I watched a second movie with the same group of friends as before…I really enjoyed just kicking back a little today. I don't think I've sat around this long since I flew to New Zealand...and then I had no choice...I had to sit there! I did go back over to Crary Lab after the second movie and work on answering the rest of my e-mail. That took over 3 hours, but I felt a HUGE sense of accomplishment after answering each one personally. Thanks for all of your interest in my trip to Antarctica. It's been great to hear from so many different people. I finished up at 12:40 AM and finally got back to my dorm room.
Before signing off today I want to tell you about the McMurdo newspaper…"The Antarctic Sun," that comes out every Sunday. They set it out on the tables in the galley every Sunday morning. It is a GREAT little paper. There are arcticles on recent excitement in McMurdo and Antarctica, and arcticles that feature the science projects going on right now.
Some recent arcticles include an arcticle covering the work of scientists in Weddell World, a remote field camp where scientists are studying seals using special video cameras. They can monitor the dives seals make and follow the activity of seals.
Another story covered the recent C-130 plane incident (not an accident) out near a remote field camp. As the Hercules taxied for take off from the remote glaciology site, one of its skis sunk into the snow covering a rather large crevasse. No one was hurt and now the Air National Guard is turning their attention to evaluation of the site and discussing ways to get the 110,000 pound plane out of there.
The volcanic eruption discovered by the Cape Roberts Project was featured as well. It highlighted this recent discovery and gave an overview of the whole project and its goals. It's nice to read about our project and the other science projects going on in Antarctica. I appreciate this opportunity to read a little news each week. It's just another example of how the people who work in McMurdo make this place run smoothly like a small community.
I've decided that the photos I'm sending tonight will highlight more of my trip to Cape Roberts this weekend. Talk to you tomorrow!
Betty :)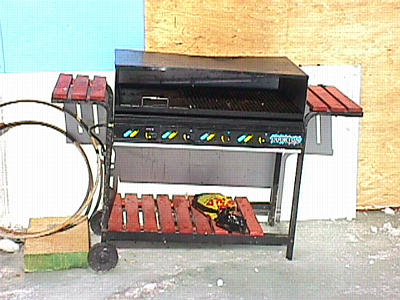 They even had a grill at the Cape Roberts camp!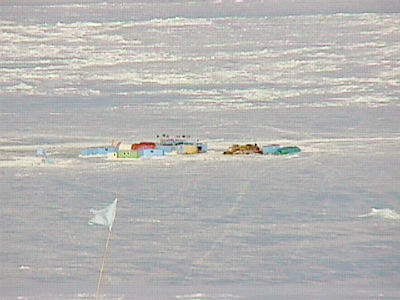 When we reached the repeater on the top of the hill, we were rewarded with a great view of the Cape Roberts camp down below.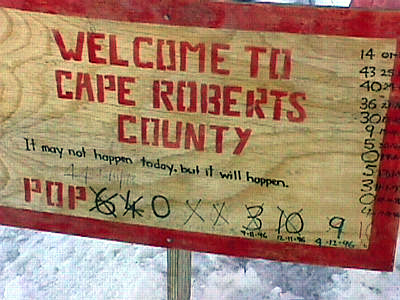 I really enjoyed seeing this sign! Notice the changes in population!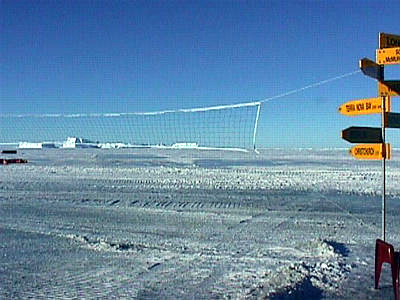 Can you tell what this is? It's a volleyball net...can you imagine playing volleyball on the sea ice?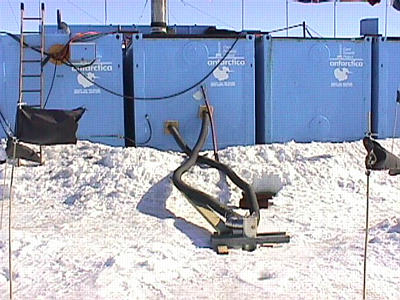 These pipes are part of the desalination plant inside the Cape Roberts camp. The salt water is brought up through a hole in the ice, and the salt is removed. Gray water (waste water) is sent back down another pipe and is taken away by the current very quickly.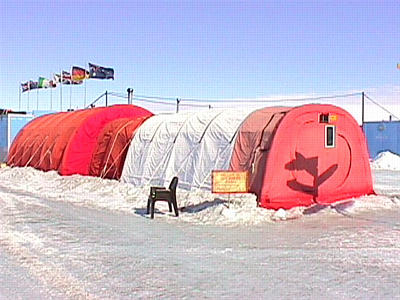 The two Jamesways make up the dining room and the "Bat Cave Cafe and Bar" of the Cape Roberts camp.
---
Contact the TEA in the field at .
If you cannot connect through your browser, copy the TEA's e-mail address in the "To:" line of your favorite e-mail package.