26 November, 1998
Thursday, November 26th, 1998
Hi! Happy Thanksgiving! We aren't celebrating Thanksgiving today in McMurdo…we are celebrating it on Saturday. This gives many people two days off in a row. We will still be working in Crary Lab, but may have a little extra time off. This is crunch time for the Cape Roberts Project and there's a lot of work to be done.
Lots of core came in last night, and the rest will be arriving in McMurdo this evening. Even so, we can only examine and sample so much each day, so Tom (one of the curators) estimated that we still have 4 days of sampling left. Today's core was from 507.88 through 532.77, so you can see we're a long way from the end of the core (which was around 625 meters).
After the meeting this morning and tour of today's core, I worked until lunch on labeling and measuring the magnetic susceptibility of samples from the day before yesterday. I am running a couple of days behind right now. One day out of the lab and it makes extra work! Since Andy arrived in town yesterday, he helped drill today's samples, working with Leo and Gary. Fabio stayed in the lab and measured samples. I spent the entire afternoon catching up on e- mail messages to students, teachers, and friends. I am enjoying all of the letters that I'm getting…and I especially thank the students in my district, District #47, for all of their questions and comments. Keep those letters coming!
After dinner I was BACK in the computer lab working on journals from Tuesday through today. It is not often possible for me to get into the lab and do them when I want to. So, sometimes it is a game of "catch up." I feel like I'm getting a cold, which doesn't surprise me with the crazy schedule we've been keeping. I'm going to get to sleep early tonight, because I have a busy day planned for tomorrow. Talk to you then!
Betty :)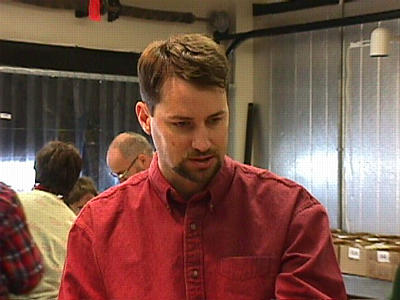 Andy Roberts, the fifth member of the original paleomag team, flew in from New Zealand yesterday. He lives and teaches in England.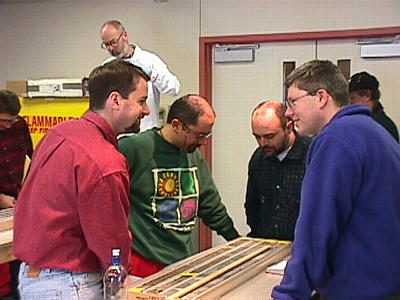 A scene from the core sampling lab this morning. Andy and Gary were discussing which sections of the core to sample today.
---
Contact the TEA in the field at .
If you cannot connect through your browser, copy the TEA's e-mail address in the "To:" line of your favorite e-mail package.