29 November, 1998
Sunday, November 29th, 1998
Hello everyone! Today was another "lab" day. I started out with Leo, drilling the last of the core samples. These were from earlier boxes of core…Gary wants to do another experiment with these samples. We had about 20 to drill in all. Fabio came in to help after a little while, and he and I finished up the job. In a way, I am going to miss doing this part of my Cape Roberts job. I have enjoyed the laughs that Fabio has provided, along with the rest of the people who have worked in the core sampling room. But, in another way, it means I don't have to walk in and out of the building through plastic dividers, carrying trays of core and samples like a waitress, and washing them afterwards (gosh I almost felt like I was in my kitchen back home!)
After lunch I spent my time in the lab labeling yesterday's samples and measuring susceptibility, along with organizing some of my belongings that I've left by my work area. I didn't feel the greatest because of my cough, and I went to the dorm before dinner and took a short nap-not like me! I skipped the Kiwi picnic over at Scott Base, since it was cold and windy today. I returned to Crary Lab and worked on answering e-mail, then Leo joined me for dinner at the galley. After, I just didn't feel good, so I spent some time with friends, helping Tom re-name his digital photos on file, and then watching a couple of movies. I just needed to sit back and relax. We just don't seem to do enough of that here.
I got back to the dorm much earlier than usual and got to sleep early! On my way back, I stopped at the Chapel of the Snows to take some photos. This is the church in McMurdo. They have services on Sunday morning, and there are several ministers/pastors who live in McMurdo during the austral summer. It is a lovely little chapel, complete with a penguin-motif stained glass window. There is also a chalice used for communion, that was from an early expedition to Antarctica. It was donated to the chapel in recent years, and is on display here in the summer, and in Christchurch, New Zealand during the winter months. It is a very comfortable chapel, and I hope to attend a service there before I leave. As our work winds down, this may be possible….Sundays have been a regular work day for us since I arrived in MacTown.
I have included some photos of the church, as well as a few more from our Friday adventure to Cape Royds and back. Enjoy and I will talk to you tomorrow.
Betty :)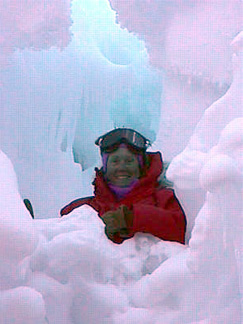 Inside the ice caves at the Erebus Glacier tongue.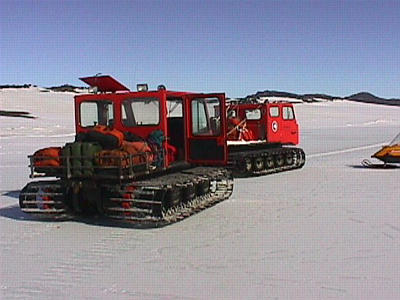 These are the Sprytes...I don't remember whether or not I've sent a photo of them to you before, but here are the ones we took on our trip on Friday!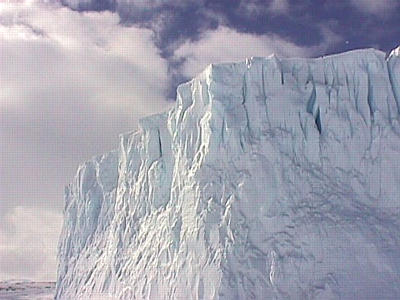 A closer view of the Barnes Glacier.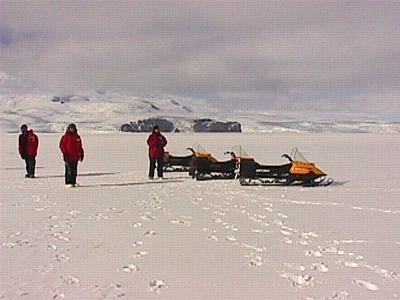 Another day of snowmobiling in Antarctica. What a great way to travel around!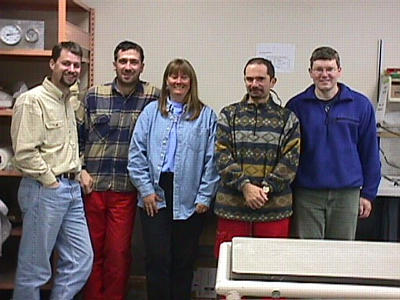 Here is the "infamous" paleomag team...after completing the FINAL day of sampling. All total, we drilled or took just over 1,000 samples from the cores that came into Crary Lab. I can't believe how many times I walked to and from the drilling hut, carrying trays of samples and core. That's also a lot of drilling in a few short weeks!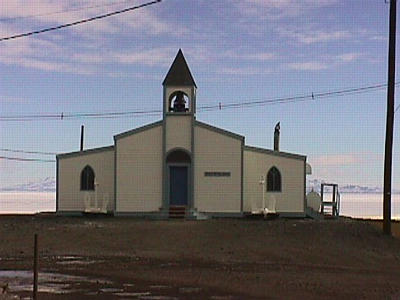 The Chapel of the Snows, McMurdo Station, Antarctica.
---
Contact the TEA in the field at .
If you cannot connect through your browser, copy the TEA's e-mail address in the "To:" line of your favorite e-mail package.